Light and fluffy coconut flakes.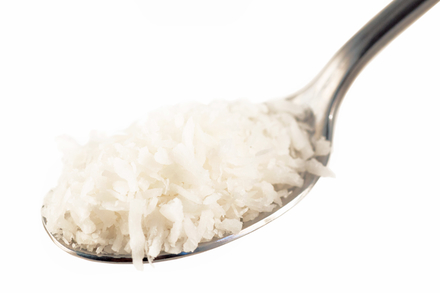 Special Offer: Was: £3.15
Last Batch 79890 Produced on Mon 14 Oct 2019 12:58. Best before End Dec 2020. Organic produce of vietnam. Packed in the UK.
Organic Desiccated Coconut(500g) - Sussex Wholefoods
Special Offer: Was: £3.15
Organic Desiccated Coconut 500g
Organic produce.
Light and fragrant coconut, shredded.
Suitable for both sweet and savoury cooking.
Free from any additives.
Packed in Sussex.
500g pack.
Desiccated coconut as a lovely way to use coconut. It is easy to sprinkle into dishes whilst you cook or bake. Desiccated coconut can play a big part in curry dishes, rice dishes and in flavouring sweets such as ice cream, cakes and biscuits.
Directions
This desiccated coconut is ready to eat, and is ideal for sprinkling over cakes and desserts. Many people also secretly eat desiccated coconut by the handful, because it is very tasty!
There is no need to soak this desiccated coconut.
Ingredients:
Organic Coconut.
(Produce of Philippines or Sri Lanka). (Last Batch: produce of vietnam).
Organic • Wheat-free • Does not naturally contain gluten • Vegetarian, Vegan • Dairy-free.
Special Offer: Was: £3.15
Related Categories

---

Buy Coconut Flour Online | Healthy Supplies
Buy Desiccated Coconut Online | Healthy Supplies
Buy Coconut Flakes Online | Healthy Supplies
Nut Powders | Healthy Supplies
Nut Pieces & Powders
Sussex Wholefoods Nuts
How To Use Desiccated Coconut
Customer Reviews on Trustpilot
Product Recommendations
---