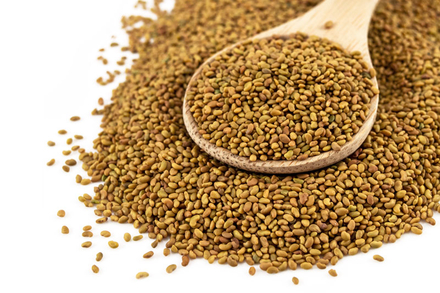 Last Batch 80026 Produced on Thu 17 Oct 2019 12:48. Best before End Dec 2020. Organic produce of China. Packed in the UK.
Alfalfa Seeds 500g, Organic (Sussex Wholefoods)
Organic Alfalfa Seeds 500g
Organic produce.
A generous bag of alfalfa seeds.
Really easy to sprout.
Add sprouts to savoury dishes as part of a healthy diet.
Packed in Sussex.
500g pack.
Alfalfa seeds are used mostly for sprouting. They have a fresh and crunchy flavour, a bit like that of lettuce and can be used in a similar manner to cress. These are easy to grow in a biosnacky germinator jar.
Directions
To sprout, soak in cool water overnight. Transfer into a germinator jar and drain off water. Leave in a cool place (not in direct sunlight). Rinse seeds and drain water twice a day. The sprouts appear really quickly in 2 to 3 days.
Ingredients:
Alfalfa seeds (Organic produce of China).
Nutritional Information
| Typical Values | per 100g |
| --- | --- |
| Energy | 24 calories |
| Protein | 4.0g |
| Carbohydrate | 0.4g |
| _of which sugars | Trace |
| Fat | 0.7g |
| _of which saturates | Trace |
| Fibre | Trace |
| Sodium | Trace |
Organic • Wheat-free • Does not naturally contain gluten • Vegetarian, Vegan • Dairy-free.
Related Categories

---

Alfalfa Seeds | Healthy Supplies
Sprouting Kits | Healthy Supplies
Sussex Wholefoods Seeds
Step-by-Step Guide to Sprouting
Customer Reviews on Trustpilot
Product Recommendations
---