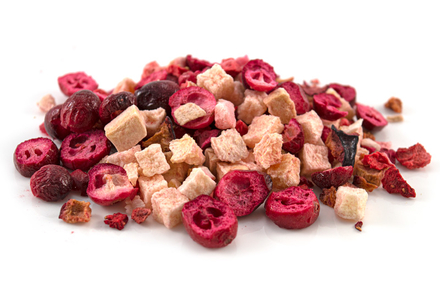 Special Offer: Was: £9.95
Last Batch 80648 Produced on Thu 7 Nov 2019 10:14. Best before End Sep 2020. Produce of various countries. Packed in the UK.
Freeze Dried Mixed Fruit 100g (Healthy Supplies)
Special Offer: Was: £9.95
Pure, Freeze Dried Mixed Fruits
Diced pieces of raspberry, strawberry, pear, cherry, plum, cranberry, banana, peeled apple.
Free from added sugar, preservatives and colourings.
Eat dry or wet - As a crunchy snack or rehydrates in seconds!
Perfect for fruit puddings, fruity sauces and shakes.
Freeze dried diced fruit is a simple and convenient way of adding fruitiness to puddings, drinks and sauces. They are delicious sprinkled into cereal - eaten crunchy or soaked in the milk. Or they can be added to milk and smoothies, reduced down into a super fruity sauce or used as a fruit-packed filling for crumbles, swiss rolls, fruit puddings and other sweet treats.
Ingredients:
Raspberries, strawberries, plum, cherries, pears, cranberries, bananas, apples (without peel).
Please note that proportions of fruit will vary.
Nutritional Information
| Typical Values | Per 100g |
| --- | --- |
| Energy | 289 calories |
| Protein | 7.2g |
| Carbohydrates | 55.8g |
| Fat | 4.1g |
Wheat-free • Does not naturally contain gluten • Vegetarian, Vegan • Dairy-free.
Special Offer: Was: £9.95
Related Categories

---

Freeze Dried Fruit | Healthy Supplies
Mixed Fruit | Healthy Supplies
Create Your Own Smoothie
Freeze Dried
Healthy Supplies Freeze Dried
Customer Reviews on Trustpilot
Product Recommendations
---