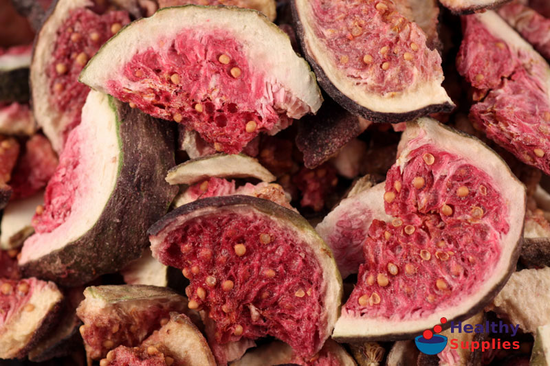 Freeze-dried figs have a sweet flavour,
and are crunchy.
Freeze-Dried Figs 100g (Sussex Wholefoods)
Freeze-dried figs are figs that have been dehydrated to one-seventh of their original weight with no preservatives, sugar or other additives. They are naturally sweet and have an excellent nutritional profile.
You can reconstitute these using 6 parts of water to one part of freeze-dried figs, or you can eat them dry as a snack. You can add them to your breakfast cereal or muesli, where the milk will work to reconstitute them in a tasty manner.
Freeze-dried fruit is additive-free and as such, very healthy.
No added sugar.
No preservatives.
100% fig.
Tastes like the original fruit. It is quite surprising that figs can be freeze-dried, but all of the familiar flavour is there!
100g of freeze-dried figs is the equivalent of 700g of figs. Just the water is taken away.
Nice large, crispy slices.
You can eat as-is, or rehydrate if you wish.
Eat as a snack, or add to muesli.
Figs are high in fibre.
Ingredients:
100% figs, freeze-dried. No additives or sugar.
For more information on our ingredients policy please see here
View our dried figs nutritional information page for general information.
Vegetarian, Vegan. Packed in a factory that also handles nuts, soya, sesame, eggs, milk, mustard, celery, wheat and gluten.
Customer Reviews on Trustpilot