Freeze-dried cranberries have a very
tart flavour, just like the real thing.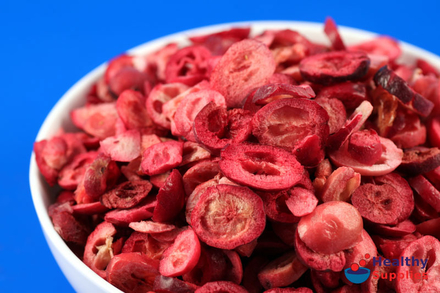 These cranberries vary and may come sliced or whole.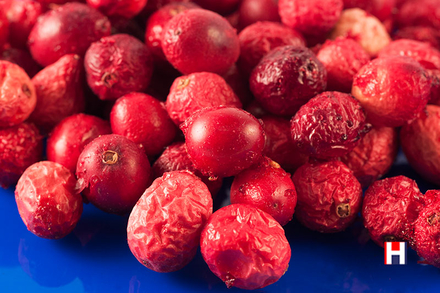 This product is temporarily out of stock.
Last Batch Produced on Fri 25 Aug 2017 11:56. Best before End Jun 2019. Produce of Poland. Packed in the UK.
Freeze-Dried Cranberries 100g (Healthy Supplies)
This product is temporarily out of stock.
Freeze-dried cranberries are cranberries that have been dehydrated 10x without preservatives or sugar. They have a very strong natural sour flavour, in keeping with the general taste of cranberries.
You can reconstitute these by adding water, or just eat them as a snack or add them to things like smoothies. You can add sugar if you wish.
Freeze-dried fruit is preservative-free and ideal for people on a healthy diet.
No added sugar.
No preservatives.
100% cranberry.
Tastes like the original fruit, with sharp cranberry flavours. Not sweetened.
100g of freeze-dried cranberries is the equivalent of 1kg of cranberries. Just the water is taken away.
Nice large slices.
You can eat as-is, or rehydrate if you wish.
Research has shown that cranberry is good for the urinary tract.
See our freeze-dried fruit nutritional information page for general information about freeze-dried fruit.
Ingredients
100% freeze-dried cranberries.
Wheat-free • Does not naturally contain gluten • Vegetarian, Vegan • Dairy-free.
This product is temporarily out of stock.
Related Categories

---

Cranberries
Freeze-Dried Fruit
Create Your Own Smoothie
Freeze-Dried
Healthy Supplies Freeze Dried
Dried Berries
Customer Reviews on Trustpilot
Product Recommendations
---