Click on image to enlarge: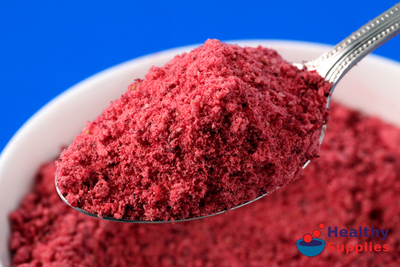 100% pure cranberry powder.
Use as an ingredient, or as a supplement!
Last Batch Produced on Fri 21 Apr 2017 11:46. Best before End May 2018. Produce of Canada. Packed in the UK.
Use as a supplement or a food ingredient.
Pure Powdered Cranberry
Freeze dried cranberry powder is is a natural and clever way to introduce extra fruit into the diet, as well as being a natural, safe colouring and flavouring. The powder contains no artificial ingredients, flavourings or colourings, just cranberry.
You can use this cranberry powder as a supplement. It's worth noting that the more expensive cranberry powder supplements are really just this powder. It's just pure cranberry!
Cranberry powder can be used to make smoothies, milkshakes, lollies, jelly, flavouring yoghurt or custard, meringue, sauces and desserts. It is also an ideal consistency for dusting onto puddings.
Directions
As a supplement: Cranberry powder is popular as a supplement. It is particularly popular with women, who use it to help with urinary tract infections. A couple of tablespoons per day is a typical dosage. Of course, our cranberry powder is 100% pure.
As a flavouring: Cranberry powder is also a useful flavour in its own right, and can be added to introduce extra tartness into milkshakes, smoothies and desserts. You can also sprinkle it into meals or on your morning cereals.
You might also like...
Nutritional Powders

Our full range of nutritional powders including kale, goji berry, wheatgrass and fruit powders.
Ingredients
Cranberries. (100% pure cranberry)