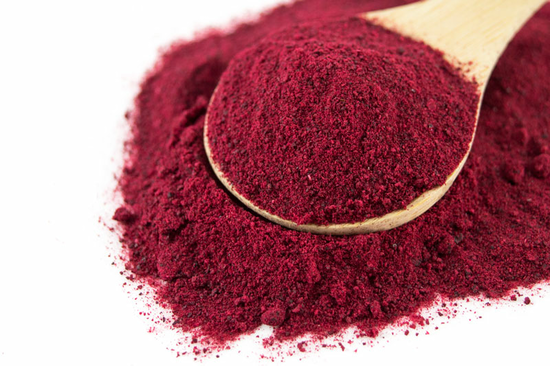 This product now comes in
100% recyclable packaging.
Freeze-Dried Cherry Powder 100g (Sussex Wholefoods)
Cherry Powder
Made from 100% pure freeze dried sour cherries.
Sprinkle dry, or add to liquid to rehydrate.
Free from any additives or added sugar.
Freeze dry cherry powder is a natural and clever way to add flavour and colour to a dish. Best of all, it is a sneaky way of introducing some extra fruit into the diet.
This cherry powder is made of just cherries. It has no added flavourings, no added colours, no added sugar, no preservatives, which means its beautiful vibrant red colour and cherry flavour is completely natural.
Uses
This cherry powder can be incorporated into drinks, desserts and sauces. Use cherry powder to make:
smoothies, milkshakes, lollies, jelly, flavouring yoghurt or ice-cream, coulis and sponges
. It is also an ideal consistency for
dusting onto puddings
.
To rehydrate, use 1 part cherry powder to 2 parts cold water.
This powder is 100% pure fruit, and therefore some natural clumping and caking will occur. Some other suppliers' powders can contain highly-processed anti-caking agents such as maltodextrin, but we prefer to supply a 100% pure fruit powder. These clumps do not affect the flavour or quality of the product. If necessary the powder can be passed through a sieve, loosened in a food processor or broken down with the back of a clean spoon.
Ingredients:
Cherries, finely milled.
For more information on our ingredients policy please see here
Vegetarian, Vegan. Packed in a factory that also handles nuts, soya, sesame, eggs, milk, mustard, celery, wheat and gluten.
Customer Reviews on Trustpilot
Product Recommendations