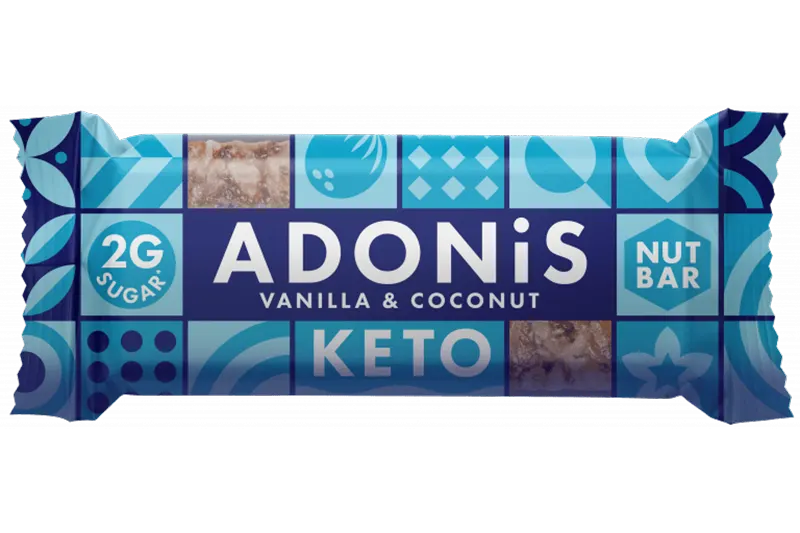 Coconut Vanilla Keto Bar 35g (Adonis)
Buy 16 or more
15% discount

£1.49

each
Coconut, Vanilla and Acai Bar (35g)
What is inside?
Acai berry is a superfood that is rich in antioxidants. The bar is full of healthy ingredients and exotic flavors and is sure to bring some sunshine into your everyday life.
Coconuts are low in carbohydrates and provide the body with healthy fats and a variety of important minerals and B vitamins. They contain MCT fats and are high in copper and iron, which help in the formation of red blood cells. They also have a particularly high manganese content, which is important for bone health and metabolism.
Cashew nuts are full of antioxidants, fiber, and protein. They can help reduce hunger and leave you feeling full for a long time. Cashew nuts are rich in copper, magnesium, zinc, phosphorus, iron, vitamin K and vitamin B6.
Erythritol is a sugar alcohol (polypol) that occurs naturally in cheese, mushrooms, wine and many fruits. Erythritol creates a sweet taste without causing an insulin high, while also helping to regulate blood sugar levels. Another advantage of erythritol is that it does not cause tooth decay compared to other sweeteners.
The chicory root fiber is a naturally occurring fiber which is ideal as a sugar substitute. It grows as a natural part of chicory and has been shown to be beneficial to health as soluble fiber. The chicory root offers a great taste while allowing a reduction in sugar, fat and calorie content.
almonds (40%), coconut flakes (18%), chicory root fibers, sweetener (erythritol), cashew nuts (7%), chia seeds (Salvia Hispanica), vanilla extract (2%), cocoa butter, emulsifier (sunflower lecithin), acai berry Powder (1%), sea salt, vitamins (vitamins C, E, B2, B1, B12, niacin, pantothenic acid, folic acid).
| Typical Values | Per 100g |
| --- | --- |
| Energy | 492kcal |
| Protein | 11.4g |
| Carbohydrate | 19.2g |
| _of which sugars | 4.9g |
| Fat | 40.2g |
| _of which saturates | 13.2g |
| Fibre | 23.9g |
| Salt | 0.45g |
Customer Reviews on Trustpilot