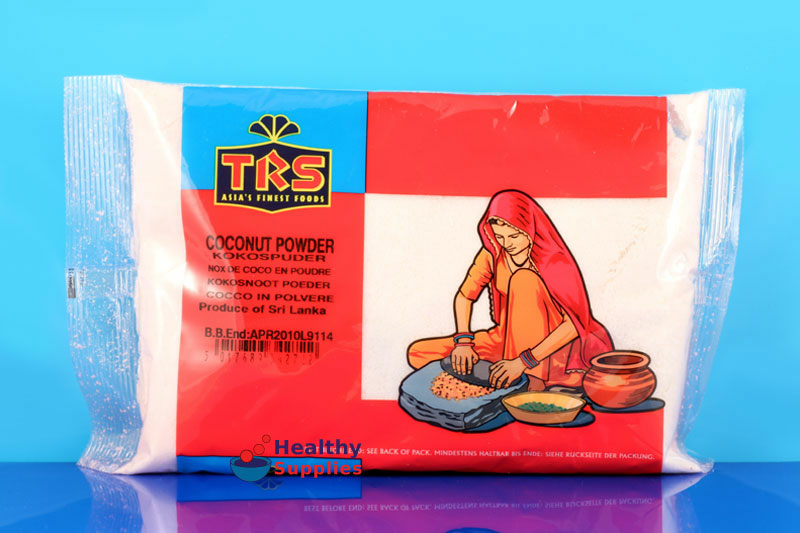 TRS Coconut Powder 300g
This product is temporarily out of stock.
Email me when this product is back in stock
Pure coconut powder
Pure coconut with no added sugar.
Fine powder.
Use in curries or desserts.
You can also sprinkle onto cakes, into muesli etc.
Coconut powder can be sprinkled into curries, desserts, cake mixes, muesli mixes or into rice dishes. This coconut powder is pure with no other ingredients. It has a naturally sweet coconut taste that works particularly well in Thai cuisine.
This coconut powder is ground into pieces around 0.5mm, which places it somewhere in between coconut flour and desiccated coconut.
Directions
In curries or Thai dishes: Add coconut powder towards the end of cooking, as too much heating affects the flavour of coconut. Sprinkle with the fingers to avoid the powder from clumping together.
In rice: Mix this coconut powder with rice before cooking to create an authentic coconut rice. Some people even add a little coconut milk to the water.
In cake mixes: This coconut powder adds a pleasant coconut "bite" when added to cake mixes. It can also be sprinkled onto the tops of cakes, as a decoration.
In desserts: Coconut powder adds a thick consistency to desserts. Try it with semolina puddings.
In muesli mixes: Coconut powder can be used in muesli or porridge, where it will absorb some of the milk and create a thicker consistency.
You might also like to try...
Ingredients:
Pure coconut powder 100%.
For more information on our ingredients policy please see here
Nutritional Information
| Typical Values | per 100g |
| --- | --- |
| Energy | 2492 kJ/ 604 kcal |
| Protein | 5.6g |
| Carbohydrate | 6.4g |
| Fat | 62.0g |
| Fibre | 23.5g |
Customer Reviews on Trustpilot