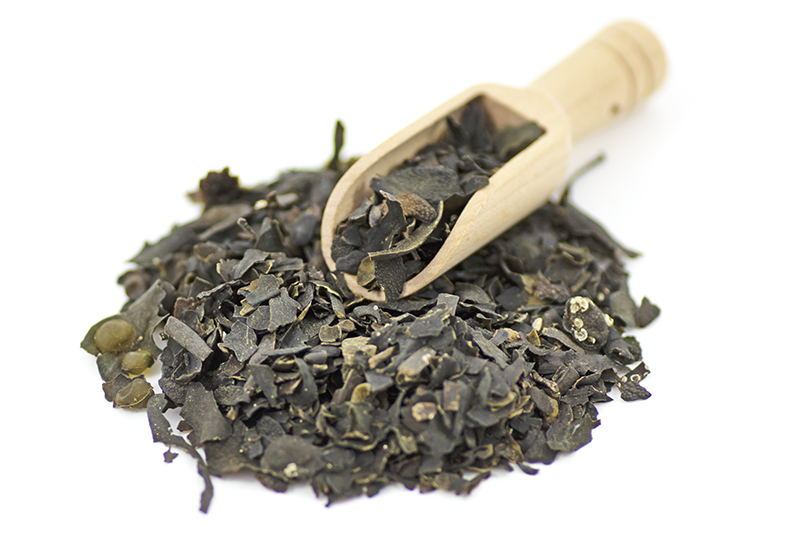 This product now comes in
100% recyclable packaging.
Bladderwrack 250g (Sussex Wholefoods)
Bladderwrack Seaweed
It may not have the most glamorous sounding of names, but don't let that put you off – Bladderwrack is a highly beneficial ingredient for today's herbal industry. It thrives in many of our oceans and is, in fact, a perennial seaweed. Its name is a reference to the 'bladders' of air that are contained on its fronds and which help to keep the Bladderwrack stay buoyant. And bladderwrack's benefits are helping drive the popularity of this nutritious seaweed.
Bladderwrack is one of the sea vegetables that contain the highest levels of iodine known to man. And it is this naturally-occurring source of iodine which is so valued in the herbal industry. It can help support a healthy functioning thyroid gland.
It's most commonly blended into a tincture for health purposes and to fully gain the Bladderwrack benefits for health.
Bladderwrack can be used sparingly in stews and soups and on salads as well as being blended into smoothies to take advantage of its health benefits.
This seaweed also boasts diuretic qualities and is known traditionally to help with water retention and bloating. It is also claimed to offer an ability to help control weight and this is also down to the iodine levels. This nutrient is thought to stimulate the metabolism and so also help boost weight loss in that manner.
Used in many anti-cellulite creams as the diuretic effect of the seaweed can aid the body to expel fluid that is building up before it starts to produce cellulite.
250g.
Bladderwrack (Fucus Vesiculosus).
The last batch packed at our facility in Sussex, UK has the following specifications:
| | |
| --- | --- |
| Date produced | Thu 2 Jun 2022 13:00 |
| Batch no. | 107102 |
| Best before | End Feb 2025 |
| Country of origin | France |
Vegetarian, Vegan.
Packed in a factory that also handles nuts, soya, sesame, eggs, milk, mustard, celery, wheat and gluten.
Customer Reviews on Trustpilot