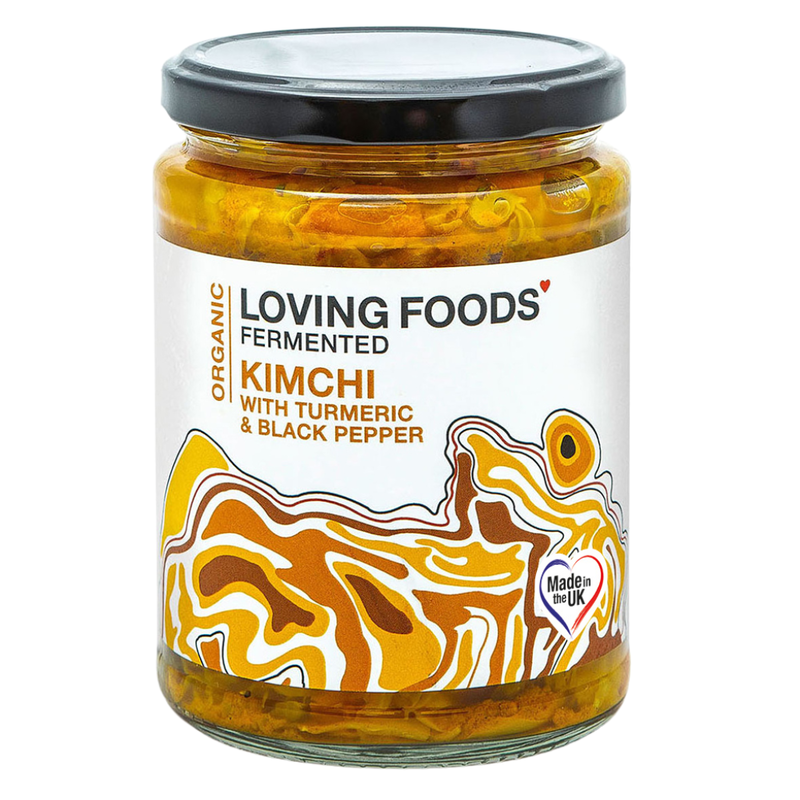 Organic Kimchi with Turmeric and Black Pepper 500g (Loving Foods)
Organic Kimchi - Turmeric & Black Pepper
Tasty Black Pepper and Turmeric Organic Kimchi: a delicious blend of local, organic ingredients.
Our organic turmeric kimchi is inspired by Korea, where fermenting vegetables and spices creates the superfood, kimchi. Loving Foods adds Celtic sea salt together with a wide variety of organic vegetables, herbs and spices. This one has a smooth-but-peppery twist.
Buy turmeric kimchi to use as a delightful side dish with your meals. Great with any meat or tofu. Adds a distinctive spicy flavour to vegetable dishes and salads. You will also love our turmeric and black pepper kimchi alongside pizza, scrambled or poached eggs, and comfort foods like cheese on toast.
Order a flavour bomb of vitamins, minerals and raw vegetable goodness.
This is one of the healthiest ways to consume curcumin (the active ingredient in turmeric), as the fermentation process breaks down the turmeric to make it easier for your body to absorb. This product is rich in beneficial live bacteria, enzymes, vitamins and minerals, and the black pepper completes both the taste and health benefits, by aiding turmeric absorption and adding a smooth spicy twist.
Net weight 475g
Keep refrigerated
Unpasteurised for maximum health benefits and taste
Vegan Friendly
Cabbage, Carrots, Ginger, Radish, Chilli, Cayenne Pepper, Onion, Turmeric, Black Pepper, Celtic Sea Salt. .
| Typical Values | Per 100g |
| --- | --- |
| Energy | 29kcal |
| Fat | 0.30g |
| of which Saturates | 0g |
| Carbohydrate | 5.90g |
| of which Sugars | 0.20g |
| Fibre | 0g |
| Protein | 1.80g |
| Salt | 0g |
Organic • Guaranteed gluten-free • Vegetarian, Vegan.
Customer Reviews on Trustpilot