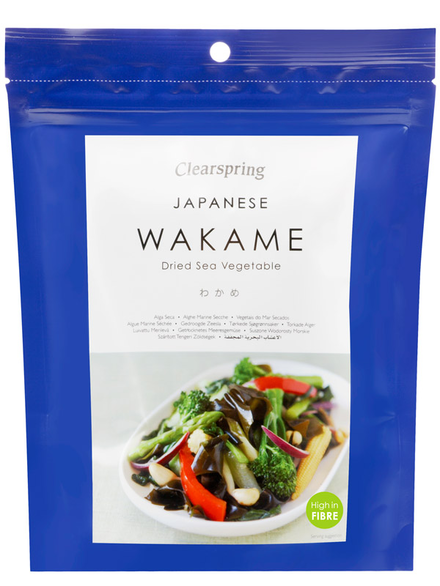 RRP was: £6.61
This product is temporarily out of stock.
Clearspring Wakame Seaweed Sea Vegetable 50g
This product is temporarily out of stock.
RRP was: £6.61
Wakame seaweed is similar to
kombu seaweed
, and used in similar ways. These wakame strips are great to add to soups and soup-based dishes, or soaked and added to stir fries.
Wakame seaweed is full of nutrients including minerals, protein and fibre, and like most seaweed, is low in fat and calories. Wakame is a tough seaweed, and should generally be cut into pieces before use. When cooked with tough vegetables, the amino acids in wakame help to break down other foods, which can help to digest them. For this reason, wakame seaweed is often added to beans. The same is also true of kombu seaweed.
Clearspring wakame seaweed is cultivated on the Sanriku coast of northeast Japan, which is renowned as an area of quality wakame production.
Directions
Soak wakame seaweed for 10 minutes in water. It is then ready to use, as you would any other vegetable. You can add it to stir fries and stews... you can chop it and eat it cooked or raw in salads and sushi.
Wakame softens the longer you cook it.. it's similar in many ways to cabbage, spinach or other green vegetables. If you like to eat your greens, you will probably like wakame.
Ingredients:
Wakame seaweed (species Undaria pinnatifida). No other ingredients. Produce of Japan.
Clearspring wakame seaweed comes in a handy resealable pack for extra freshness. Because wakame expands considerably, this 50g pack is usually enough for several meals. For more information on our ingredients policy please see here
Nutritional Information
| Typical Values | per 100g |
| --- | --- |
| Energy | 132kcal |
| Protein | 20.5g |
| Carbohydrate | 9.3g |
| of which sugars | trace |
| Fat | 1.4g |
| of which saturates | 0.8g |
| Fibre | 26.7g |
| Sodium | 7.1g |
| Calcium | 721mg |
| Magnesium | 1070mg |
| Iodine | 13.9mg |
| Iron | 3.8mg |
Vegetarian, Vegan.
RRP was: £6.61
This product is temporarily out of stock.
Customer Reviews on Trustpilot
Product Recommendations
---