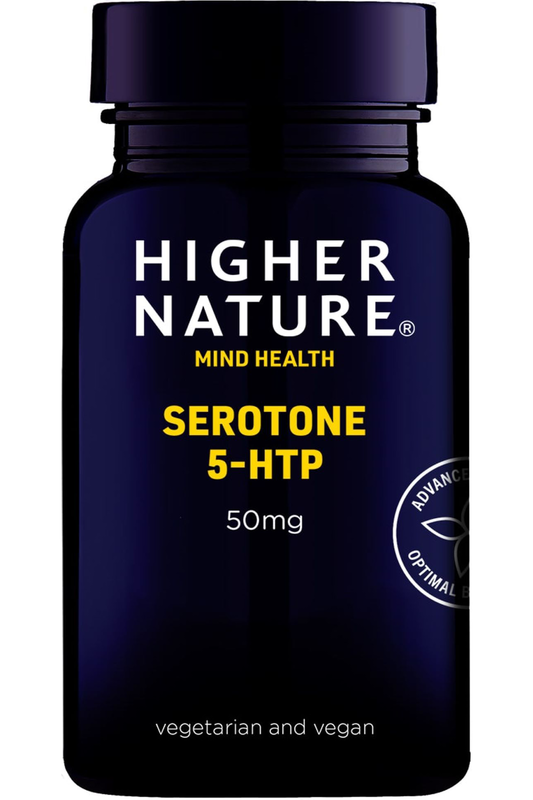 Serotone 5HTP 50mg, 90caps (Higher Nature)
Serotone 5HTP Supplement
Natural amino acid.
Amino acids sourced from the Griffonia simplicifolia seed.
With added B vitamins and zinc.
Free from valerian.
Suitable for vegans.
90 capsules.
Directions
50mg capsule: Take 1-2 capsules at the end of the day with a carbohydrate snack. Consult your doctor if under medical supervision or taking prescribed medications. Not advisible if pregnant or if taking anti-depressant medication. Can cause drowsiness; do not drive or operate machinery if affected. If gastro-intestinal discomfort occurs, reduce intake .Not available in Ireland.
One 50mg 5HTP capsule typically provides: 50mg 5HTP, 5mg Vitamin B6, 2.5mg Zinc, 25µg Biotin, 50µg Folic acid, 15mg Niacin.
Do not take 5-HTP if you're taking other medications that increase serotonin levels, such as antidepressants like SSRIs and MAO inhibitors. Use caution when taking carbidopa, a medication for Parkinson's disease.
5-HTP is not recommended for people with Down syndrome, as it has been linked to seizures. Also, do not take 5-HTP less than two weeks before surgery as it may interfere with some medications commonly used during surgical procedures.
5-HTP may interact with other medications as well.
As with any supplement, be sure to check with your doctor before starting something new.
Vegetarian, Vegan.
Customer Reviews on Trustpilot