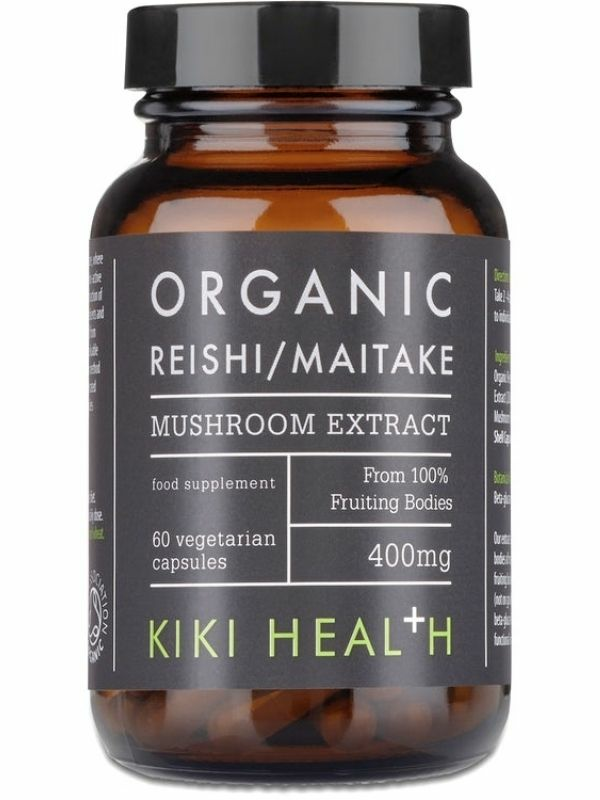 Organic Maitake And Reishi Extract 60 capsules (KIKI Health)
Maitake & Reishi Extract Blend, Organic
These organic reishi/maitake extract powders are derived by extraction of the mushroom's fruiting bodies, which are proven to be much richer inactive ingredients and more abundant in beta-D-glucan-rich polysaccharides than mushrooms extracted from mycelium.
Temperature-controlled and dual extract technology are used to obtain the valuable functional components found inside the mushroom cells. The advanced production method supports the highest levels of active nutrients to be captured.
These pure and concentrated organic extract powders are expertly standardised to an impressive 50% polysaccharides content.
It contains a significant amount of triterpenes and polyphenols.
Contains 50% reishi and 50% maitake.
Full-spectrum mushroom extract.
From 100% fruiting bodies.
Grown on a wood-rich substrate.
Standardised to 50% beta-glucan-rich polysaccharides.
Non-GMO.
No artificial colours, preservatives, sweeteners or fillers.
WARNINGS:
Food supplements should not be used as a substitute for a varied diet.
Keep out of reach of children.
Do not exceed the recommended daily dose.
STORAGE: Store in a cool, dry place away from direct sunlight. Refrigeration is not required.
Directions
Take 2 – 4 capsules daily with meals according to individual needs.
Organic Reishi (Ganoderma Lucidum) Mushroom Extract (200mg) from Fruiting Bodies, Organic Maitake (Grifola Frondosa) Mushroom Extract (200mg) from Fruiting Bodies, Shell Capsule: Hypromellose
Organic • Guaranteed gluten-free • Vegetarian, Vegan.
Customer Reviews on Trustpilot