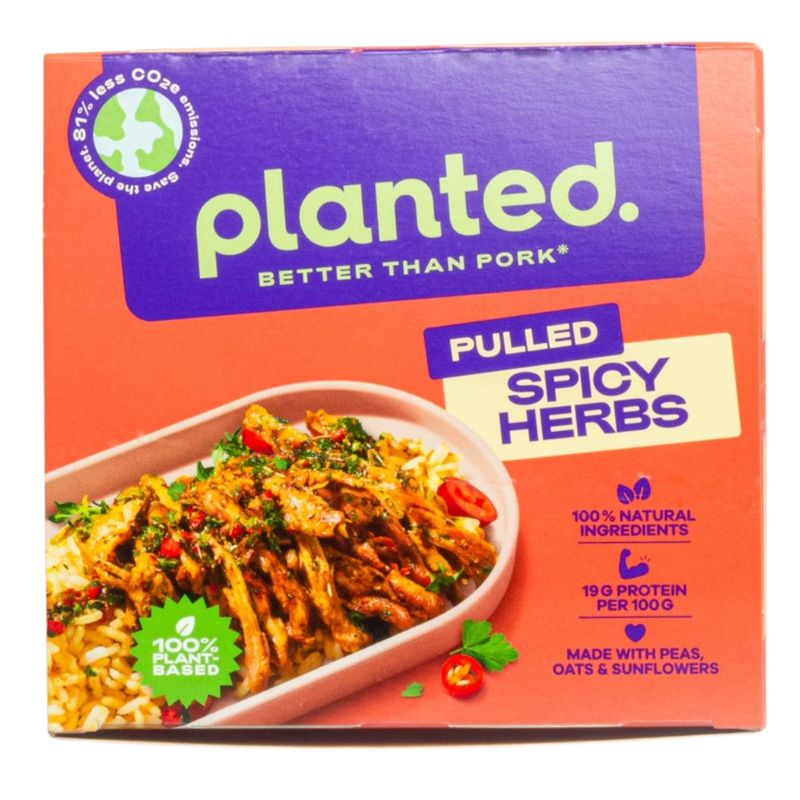 Pulled Spicy Herbs 220g (Eatplanted)
eatplanted.pulled Spicy Herbs
BETTER THAN PORK*
Vegan food based on plant proteins with 25% marinade, to be consumed cooked. Spicy Herbs is a pleasantly fiery Argentinian marinade and incredibly versatile. Whether as a filling for sandwiches, tacos, fajitas, bao or hamburgers, as a side dish with jasmine rice and fresh herbs or as an ingredient in warm salads or Poké Bowls. Choose the dish that suits your taste!
* The production of eatplanted.pulled needs 81% less CO₂e and 43% less water than pork.
Water, plant protein 23% (pea, sunflower, oat), rapeseed oil, pea fibres, lemon juice, white wine vinegar, herbs, spices, salt, corn starch, yeast, vitamin B12. .
Typical Values
Per 100g
Energy
145 kcal
Fat
3.6g
thereof saturated fatty acids
0.5g
Carbohydrates
8.5g
thereof sugar
6.1g
Fiber
4.1g
Protein
18g
Salt
1.8g
Vitamin B12
0.9 μg (35%*)
Iron
4.0 mg (28%*)
*Percentage of reference daily intake quantity.
Customer Reviews on Trustpilot