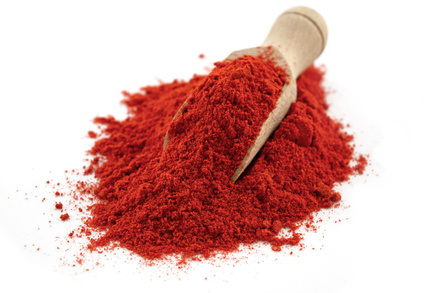 Unsmoked sweet paprika.
Special Offer: Was: £4.59
Last Batch 78021 Produced on Fri 14 Feb 2020 12:04. Best before End Jun 2021. Organic produce of Spain. Packed in the UK.
Paprika 100g, Organic (Sussex Wholefoods)
Special Offer: Was: £4.59
Unsmoked paprika. Organic.
Organic paprika.
Bitter-sweet and mildy peppery.
Not smoked.
Similar to Hungarian-style paprika.
Suitable for goulash dishes.
Foil-wrapped for freshness.
Packed in Sussex.
100g pack.
Paprika is used where a spicy peppery flavour is required, but without the heat of chilli. It is a mild spice used for flavour rather than "hotness", and comes in two forms: the unsmoked sweet paprika (Hungarian-style) and smoked (Spanish-style). This is the unsmoked paprika and has a bitter-sweet flavour and mild pepperiness.
Directions
This type of paprika is used to give a spiciness to dishes without too much heat. Use around a teaspoonful of this paprika in goulash or casserole dishes.
Ingredients:
Paprika. Organically grown in Spain or Israel.
Organic • Wheat-free • Does not naturally contain gluten • Vegetarian, Vegan • Dairy-free.
Special Offer: Was: £4.59
Related Categories

---

Paprika
Sussex Wholefoods Organic Herbs and Spices
Organic Spices
Customer Reviews on Trustpilot
Product Recommendations
---