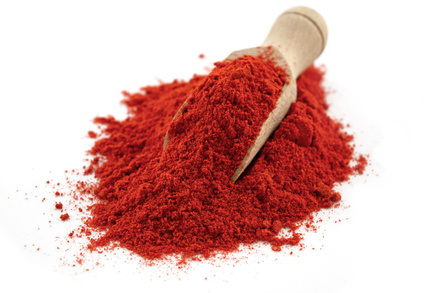 Unsmoked sweet paprika.
Last Batch Produced on Thu 2 Jul 2020 15:55. Best before End Oct 2022. Organic produce of Various Countries. Packed in the UK.
Paprika 100g, Organic (Sussex Wholefoods)
Unsmoked paprika. Organic.
Organic paprika.
Bitter-sweet and mildy peppery.
Not smoked.
Similar to Hungarian-style paprika.
Suitable for goulash dishes.
Foil-wrapped for freshness.
Packed in Sussex.
100g pack.
Paprika is used where a spicy peppery flavour is required, but without the heat of chilli. It is a mild spice used for flavour rather than "hotness", and comes in two forms: the unsmoked sweet paprika (Hungarian-style) and smoked (Spanish-style). This is the unsmoked paprika and has a bitter-sweet flavour and mild pepperiness.
Directions
This type of paprika is used to give a spiciness to dishes without too much heat. Use around a teaspoonful of this paprika in goulash or casserole dishes.
Ingredients:
Paprika. Organically grown in Spain or Israel.
For more information on our ingredients policy please see here
Organic • Vegetarian, Vegan.
Related Categories

---

Paprika
Sussex Wholefoods Organic Herbs and Spices
Organic Spices
Customer Reviews on Trustpilot
Product Recommendations
---