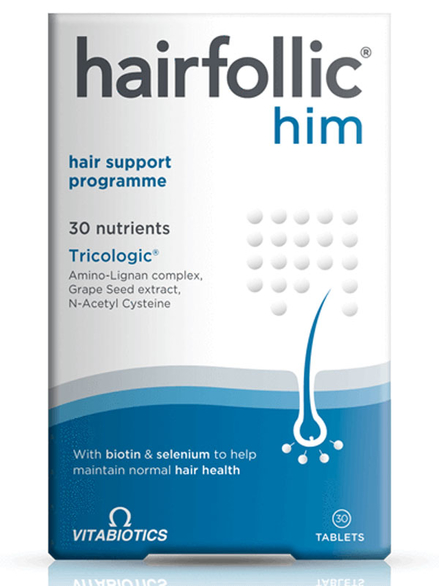 Hairfollic Him, 30 Tablets (Vitabiotics)
RRP was: £18.95
Advanced micronutrient formula.
Hairfollic Him is a carefully balanced combination of vitamins, minerals and bio-active nutrients. Each tablet provides micronutrients including biotin, selenium and zinc which contribute to the maintenance of normal hair.
Hairfollic Him also includes the exclusive Tricologic Amino-lignan complex. Hairfollic Him delivers its benefits via the bloodstream directly to the hair roots and has been formulated on the basis of the latest scientific research.
Safeguard your intake of nutrients like Selenium and Zinc.
Includes Tricologic complex, with Amino Acids, the structural components of hair.
Recommended by leading male hair loss expert Spex.
From the UK's No.1 vitamin company.
You might also like to try...
For more information on our ingredients policy please see here
RRP was: £18.95
Related Categories

---

Multivitamins
Vitabiotics
Mens Health
Customer Reviews on Trustpilot
---