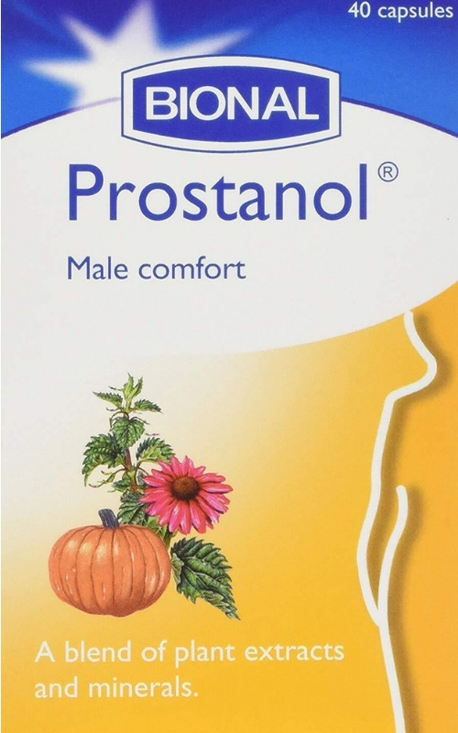 Prostanol, 40 Capsules (Bional)
Prostanol (40 Capsules)
Prostanol supplements.
Aids in the steady functioning of the prostate.
An exquisite blend of natural plant extracts and minerals.
Can aid in maintaining and helping male comfort.
High in Vitamin E.
40 Capsules.
You might also like to try...
Directions:
Take 1 capsule 3 times a day for one month, then follow a maintenance dose of 1 capsule a day.
Ingredients:
Pumpkin seed oil (cucurbita oleum), gelatine, beeswax, stinging nettle extract (extract Urtica dioica), glycerol, magnesium oxide, AY-Sitosterol, java tea extract (extract orthosiphon), sorbitol, lecithin, zinc orotatem, echinacea extract (extract echinacea angustifolia), orotic acid, Vitamin E (as d-alpha-tocopherol), silicon dioxide, saw palmetto extract (extract serenoa), colour (natural): titanium dioxide, riboflavin and carotene.
For more information on our ingredients policy please see here
Nutritional Information
| Typical Values | Per Capsule |
| --- | --- |
| Vitamin E | 6.7mg |
| Magnesium | 38mg |
| Zinc | 4mg |
| Pumpkin Seed Oil | 428mg |
| Stinging Nettle Extract | 100mg |
| AY-Sitosterol | 60mg |
| Java Tea Extract | 50mg |
| Echinacea Extract | 20mg |
| Orotic Acid | 10mg |
| Saw Palmetto Extract | 2.5mg |
Customer Reviews on Trustpilot