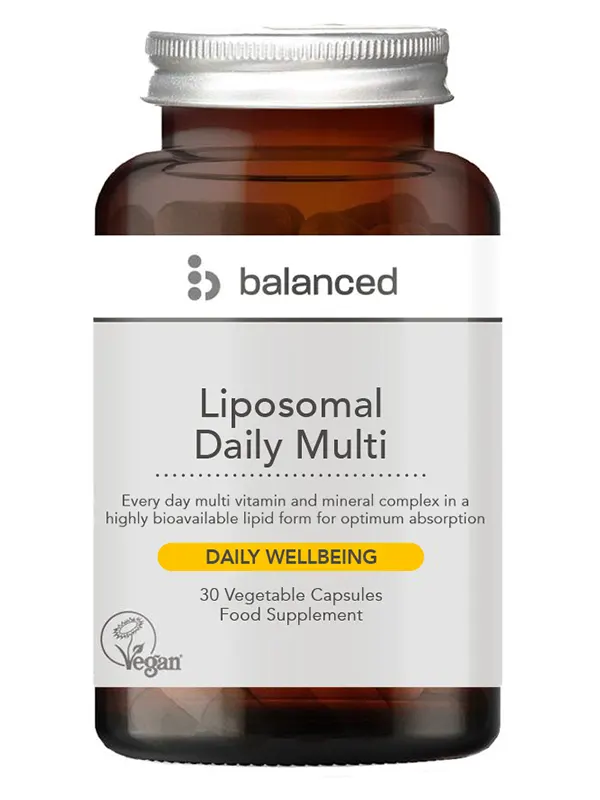 Liposomal Daily Multi 30 Capsules (Balanced)
Liposomal Daily Multi Vegan Capsules
Balanced Liposomal Daily Multi Veggie Caps in our 100% reusable and recyclable bottle. Our Liposomal formulas are at the cutting edge of vitamin and mineral supplement research and development. Liposomal is a term used for nutrients that have been encapsulated in a lipid compound. This lipid compound has a composition similar to that of the cell membrane and is therefore readily absorbed into the cell, depositing the nutrients exactly where it is needed. Effectively this means much more (up to 95%) of the supplement is absorbed by the cells. Our Daily Multi is an everyday complex of vitamins and minerals needed to maintain your daily wellbeing. Vegan and free from excipients, soy, GMO, gluten, lactose, and sugar.
Directions
Adults take 1 capsule daily with a meal, or as directed by a healthcare professional.
Vitamin C (Ascorbic Acid), Capsule Shell (Vegetable Cellulose (HPMC)), Liposomal proprietary blend: Palmitic-Oleic Acid Phospholipids from Sunflower, Vitamin B3 (Niacin), Vitamin E (d-alpha tocopherol), Vitamin B5 (Pantothenic Acid), Vitamin B2 (Riboflavin), Vitamin B1 (Thiamine HCL), Vitamin B6 (Pyridoxine HCL), Manganese (Sulphate), Vitamin A (Beta Carotene), Folic Acid, Biotin, Molybdenum (Citrate), Chromium (Picolinate), Vitamin K1 (Phytonadione), Vitamin K2 (MK-7), Iodine (Potassium Iodide), Selenium (L Selenomethione), Vitamin D3 Cholecalciferol), Vitamin B12 (Methylcobalamin)
Guaranteed gluten-free • Vegetarian, Vegan.
Customer Reviews on Trustpilot