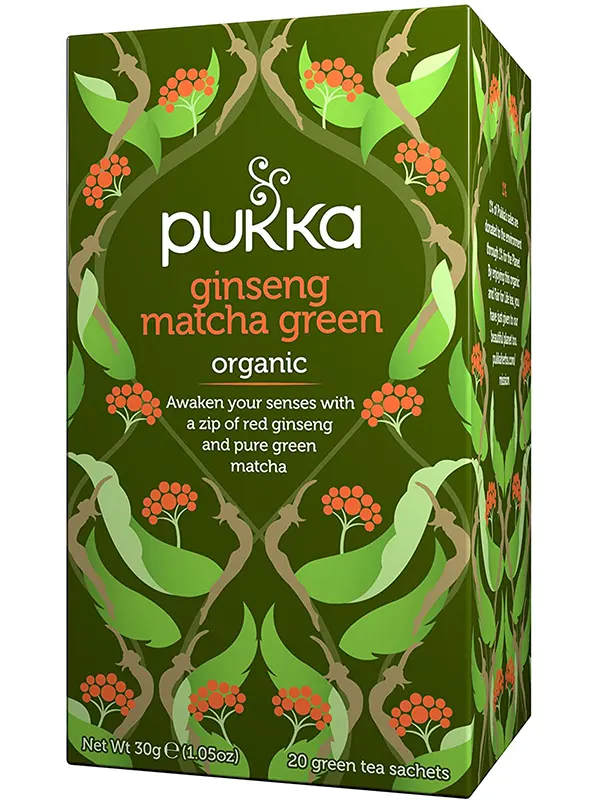 Organic Ginseng Matcha Green 20 x Sachets (Pukka)
Your green magic carpet ride.
Made with organic ginger, green tea, lemongrass and liquorice.
A tea to bring a spring-heeled step to your day and colour to your life.
Ethically-sourced, organically grown ingredients.
Good news for finding your inner spring! Let spring-heeled steps bring a touch of colour to your life. Emerald green matcha and verdant whole leaf green tea catch the wings of red ginseng and the magic of lemon tulsi. Up up and away to the greenest of days... enjoy!
Product Information
Every Pukka plastic-free tea bag comes in its own recyclable envelope to retain the essential oils in our organic herbs. Each bag has two chambers, allowing these incredible herbs to flow and release the full potency in your cup. To help the flavours to fully disperse, pour boiling water directly on the bag. Every herb loves the water, so leave them to steep for the perfect brew. And remember to boil just the amount of water you need to make your cuppa as environmentally-friendly as it can be.
Jeju Island Sencha green tea (50%), lemongrass, ginger root, liquorice root, lemon Vana tulsi leaf, lemongrass essential oil flavour, Matcha (Jeju Island Emerald) (2%), red ginseng root (2%).

Organic • Guaranteed gluten-free • Vegetarian, Vegan.
Customer Reviews on Trustpilot