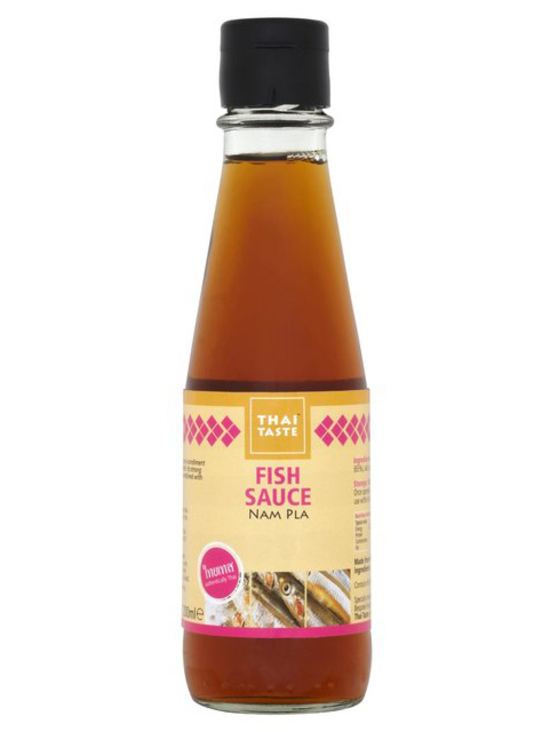 Thai Fish Sauce: not just for fish dishes...
Thai Fish Sauce (Nam Pla) 200ml (Thai Taste)
Authentic Thai Fish Sauce
Essential ingredient to Thai cooking.
Use to flavour stir-fries and for dipping.
Adds an authentic umami flavour to Far-Eastern cuisine.
Easy to use - simply add to your stir-fry.
In Thai, Vietnamese and other Far-East Asian cuisine, fish sauce is used in almost every meal, in a similar manner to how soy sauce is used in Chinese cooking. Fish sauce creates one of the key underlying tastes in these cuisines.
The Umami Flavour
Once cooked into the meal, fish sauce has a complex flavour: not simply "fishy", it has a savoury taste, or
umami
. It brings together the other flavours in the dish, and works well with meat flavours and any noodle dishes.
The Thai people tend to use fish sauce to flavour practically every fried meal, whether it contains fish or not, because of this umami quality that the fish sauce has. It is necessary for an authentic taste, because most Thai food doesn't quite feel right without it!
Directions
In general use: Fish sauce is a staple part of Thai cuisine. It is added at the start of cooking, together with the frying oil and onions. Use in all Thai stir-fries. Once cooked, the flavour mellows and the recognisable Thai taste comes through.
To make Thai sauce: Nam Prik Nam Pla is the traditional Thai sauce served alongside Thai rice and noodle dishes in a small bowl. Mix around 30ml of this fish sauce with the juice of a lime, 2 or 3 finely-chopped chillies, some finely-chopped garlic and 2 teaspoonfuls of coconut sugar. Drizzle onto stir-fries or use as a dipping sauce.
Ingredients:
Anchovy fish extract 68%, salt, sugar.
For more information on our ingredients policy please see here
Nutritional Information
| Typical Values | Per 100g |
| --- | --- |
| Energy | 60 calories |
| Protein | 10g |
| Carbohydrate | 4g |
| _of which sugars | 0g |
| Fat | 0g |
| Fibre | 0g |
| Sodium | 8g |
Customer Reviews on Trustpilot
Product Recommendations