Cajun Chicken Quinoa - Recipe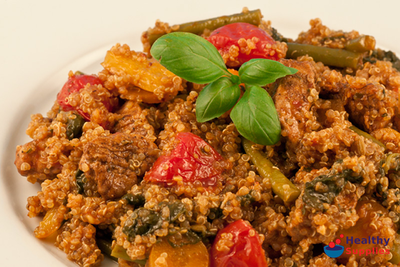 Cajun Chicken Quinoa with Mixed Vegetables.
Created by Beccy Starnes.
(decorated with home grown basil)
Cajun Chicken & Vegetables with Quinoa
An easy, flavoursome one-pot dish
A spicy chicken and vegetable dish with whole quinoa. This meal has a lively flavour and contains ingredients such as chilli, cayenne, cumin, fennel, coriander, tomato and garlic. You can add any vegetables or meat you desire - you could even try it with tofu. Either way this is a healthy, nutritious and delicious dinner. (See below to find out how it was made).
Ingredients:
Approx 50g
Whole Quinoa
1 tsp
Cayenne
1 tsp
Cumin seeds
½ tsp
Ground Allspice
½ tsp
Chilli flakes
½ tsp
Fennel
1 heaped tbsp
Minced Garlic
2 tbsp
Tomato puree
1 pint chicken or vegetable
stock
White Wine Vinegar
(alternatively you could use
brown rice vinegar
)
a pinch of chopped dried
Coriander leaves
Cracked Black Pepper
to season
Fresh ingredients from the grocers:
Chicken, Fresh Carrots, Fresh Spinach, Green Beans, Yellow Bell Pepper, Cherry Tomatoes.
Feel free to adapt this recipe using any veg or meat - frozen vegetables and tofu would work too.
---
How it was made
1) Dry fry the spices (excluding coriander) on medium/high heat for a minute. Add garlic paste, tomato puree, chicken and cook for 2 minutes. (Keep the ingredients moving incase they stick to the pan. You may also need to add a drop of oil or water to moisten the pan and prevent the ingredients from catching - make sure your temperature is not too high).
2) Lower temperature to medium heat, add carrots, pepper and green beans and a splash of vinegar vinegar. Fry for further 2 minutes.
3) Pour in stock, and sprinkle in quinoa. Leave to simmer on medium heat for about 20 minutes. If the water evaporates before the quinoa has cooked, add a little more water to the dish.
4) Before the last of the liquid evaporates, add spinach and coriander leaves, then add some fresh chopped tomatoes for the last minute. Once the spinach has wilted into the dish, season with black pepper and you are ready to serve.
This amount feeds 1-2 people.
This dish was made by a member of the Healthy Supplies team. Do note that no extra salt was added as the garlic paste already contains salt. You may want to increase or decrease spice quantities to your preferred taste.
Products used in this recipe
---
Customer Reviews on Trustpilot