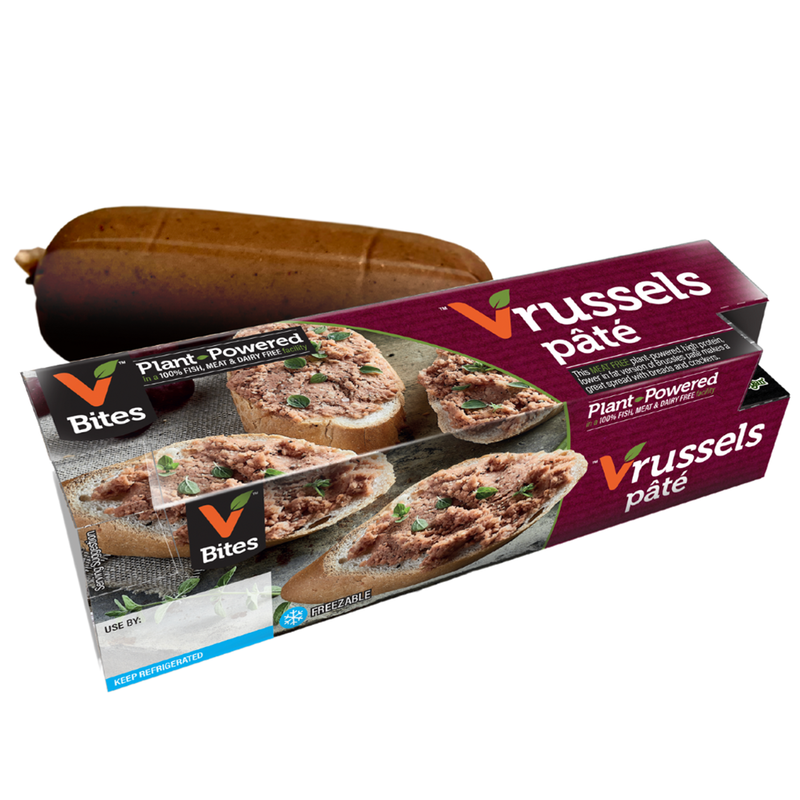 Plant-Based Brussels Pate 150g (VBites)
Vegan Plant-Based Brussels Pâté
Our vegan Brussels Pâté makes for a great spread with breads and crackers. Grab a few of your favourite veggies and garnishes and this makes for a great addition to a party platter. Compared to standard Brussels Pâté, our vegan alternative has more protein and less fat, making it great for the health conscious.
All VBites products are 100% vegan and focus on plant-based ingredients. We create gourmet foods based around different global cuisines and heritages, but using modern and innovative production methods. This means we think progressively about how we make our food without changing how we love to eat. At VBites we create foods that are healthier than animal-based foods. Our vegan-friendly Brussels Pâté is very high in plant-based protein, and contains more fibre than animal-based Brussels Pâté. In addition, VBites Brussels Pâté is cholesterol-free.
They are also environmentally much more sustainable than standard pork Brussels Pâté. We continue to innovate on our food system by developing better methods of production and foods that do better for humans, the planet, and all beings living on it.
Our Brussels Pâté is made with healthy, vegan and environmentally-friendly plant-based pork which means we can continue to enjoy Brussels Pâté paired with crackers and some VBites Cheezly in a modern and progressive way.
Keep refrigerated. Once opened consume within 48 hours. Suitable for freezing. Consume within 3 months of freezing. Defrost throughly in a refrigerator for 12-24 hours before use.
Vegan. Kosher.
Water, Rapeseed Oil, Wheat Gluten, Tofu (Soya), Soya Protein, Coconut Oil, Wheat Starch, Salt, Dried Yeast, Yeast Extract, Sugar, Onion Powder, Wheat Fibre, Thickeners: Carrageenan, Locust Bean Gum; Spices & Spice Extracts, Potato Starch, Natural Flavouring, Garlic Powder, Preservative: Potassium Sorbate, Barley Malt Extract, Colour: Iron Oxide.
| Typical Values | per 100g |
| --- | --- |
| Energy | 277kcal |
| Fat | 20.4g |
| of which saturates | 4.5g |
| Carbohydrates | 7.1g |
| of which sugars | 1.4g |
| Fibre | 1.7g |
| Protein | 15.4g |
| Salt | 1.2g |
Customer Reviews on Trustpilot