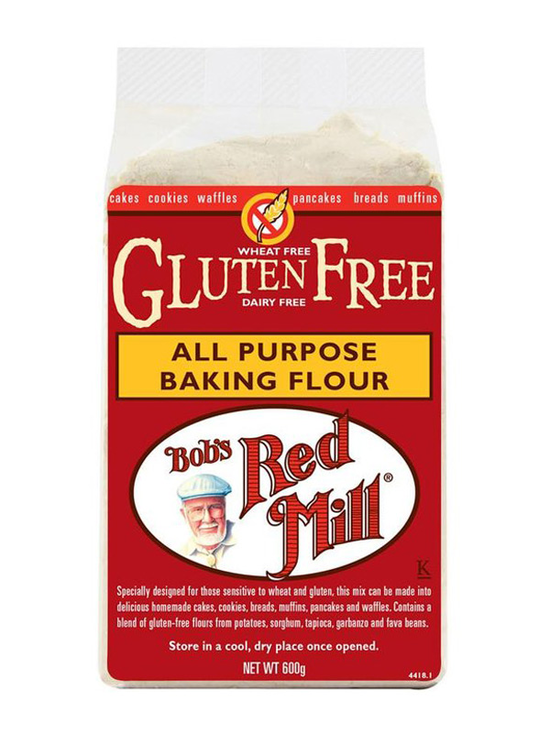 All Purpose Baking Flour, Gluten Free 600g (Bob's Red Mill)
This product is temporarily out of stock.
Gluten & Dairy Free Baking Flour
Use for: Cakes, biscuits, pancakes, breads and muffins.
Contains: Garbanzo & Fava Bean Flour, Potato Starch, Tapioca & Sorghum Flour.
Works best with Xanthan Gum.
Bob's Redmill products are specifically designed for those who connot/ do not eat wheat/gluten. They are regularly batch tested to ensure the product remains gluten free.
This all purpose flour can be used instead of the usual baking flour you might use in a recipe. It is recommended that xanthan gum be added to flour for best results. It acts as a binder (which would usually be the job for gluten). The Bob's Redmill packet indicates quantities of xanthan gum required for standard baking recipes. Bread recipes may also require eggs, vinegar and extra water for best results.
Ingredients:
Garbanzo Bean Flour, Potato Starch, Tapioca Flour, White Sorghum Flour & Fava Bean Flour.
For more information on our ingredients policy please see here
NB: For UK and European customers - The expiry dates on Bob's Red Mill packets are written in American order. ie, Month/Day/Year. (for example, 11/02/14 means 2nd November 2014).
Guaranteed gluten-free • Vegetarian, Vegan.
This product is temporarily out of stock.
Customer Reviews on Trustpilot
Product Recommendations