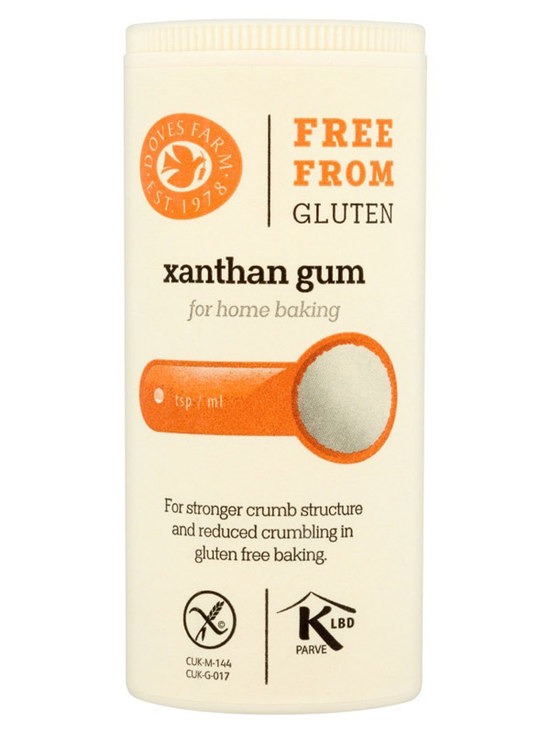 One or two teaspoons of Xanthan Gum
will help to bind rice bread and
other gluten-free mixes.
Xanthan Gum 100g (Doves Farm)
Xanthan Gum - For Gluten-Free Baking
Makes gluten-free flour bind together.
Improves crumb structure and reduces crumbling of the dough.
Completely natural.
Also used in ice-cream making.
Gluten-free.
Xanthan Gum is used to improve the consistency of gluten-free flours such as rice flour, potato flour or buckwheat flour. Xanthan gum is used as a binding agent to perform the role that gluten plays in wheat flour.
Xanthan gum is completely natural, and made from sugar.
Directions
To bind gluten-free flour: Mix 2 teaspoons of xanthan gum for every 250g (half pound) of potato/rice/buckwheat flour. The xanthan will help to bind the mix and to keep it elastic. Use in bread, cakes, scones and cookies.
In ice cream: If you are making dairy-free ice cream, xanthan gum will help to thicken and bind the mix. If you are using rice milk, add 1 teaspoonful of xanthan gum for every 2 cups of rice milk (see recipe below).
Ingredients:
Xanthan Gum. (produce of more than one country).
Gluten-free. Contains no nuts. Suitable for vegans. For more information on our ingredients policy please see here
Guaranteed gluten-free • Vegetarian, Vegan.
Customer Reviews on Trustpilot
Product Recommendations