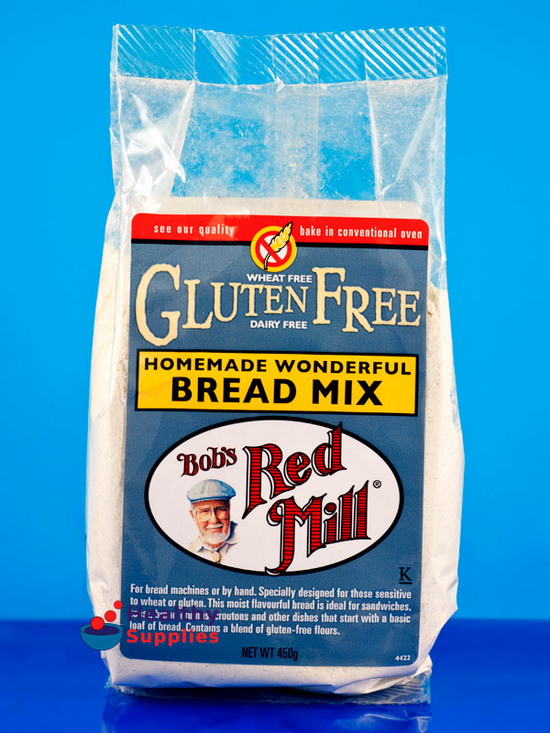 Wonderful Bread Mix 450g (Bob's Red Mill)
Gluten-Free Bread Mix
A specially prepared bread mix, to make fresh, warm loaves.
Free from wheat and gluten. Also free from all dairy products.
Can be made in a bread mixer or by hand.
Comes with a pack of yeast inside.
Contains a large variety of flours, including: Garbanzo Bean, Potato, Corn, Sorghum and Tapioca.
Bob's Redmill products are specifically designed for those who cannot or do not eat wheat/gluten. They are regularly batch tested to ensure the product remains gluten free.
This packet will make one large loaf.
Directions
You will need:
Instructions:
There is a yeast packet that comes with the bread mix. Open the pack and add the contents to the warm milk in a bowl. Leave it to foam for 5 minutes.
Put the bread mix in a large bowl and add the egg (or egg replacer), yeast mixture, the oil and vinegar.
Mix thoroughly with a beater for 3 minutes.
Knead into a dough.
Place the dough in a greased non-stick pan and cover with oil or cling film.
Place in a warm place until dough has risen (about half an hour).
Remove the cling film or foil and bake at 190 degrees for 10 minutes, before covering with foil and baking for a further 55 minutes.
Remove the loaf from the oven when it is hard when tapped with a fingernail. Make sure that it is not underdone.
Remove the loaf from the pan, allow to cool, then eat the loaf.
Ingredients:
Garbanzo Bean Flour, Potato Starch, Corn Starch, White Sorghum Flour, Tapioca Flour, Evaporated Cane Juice, Fava Bean Flour, Xanthan Gum, Active Dry Yeast, Potato Flour, Sea Salt, Guar Gum, Soy Lecithin.
For more information on our ingredients policy please see here
NB: For UK and European customers - The expiry dates on Bob's Red Mill packets are written in American order. ie, Month/Day/Year. (for example, 11/02/11 means 2nd November 2011).
Guaranteed gluten-free • Vegetarian, Vegan.
Customer Reviews on Trustpilot
Product Recommendations