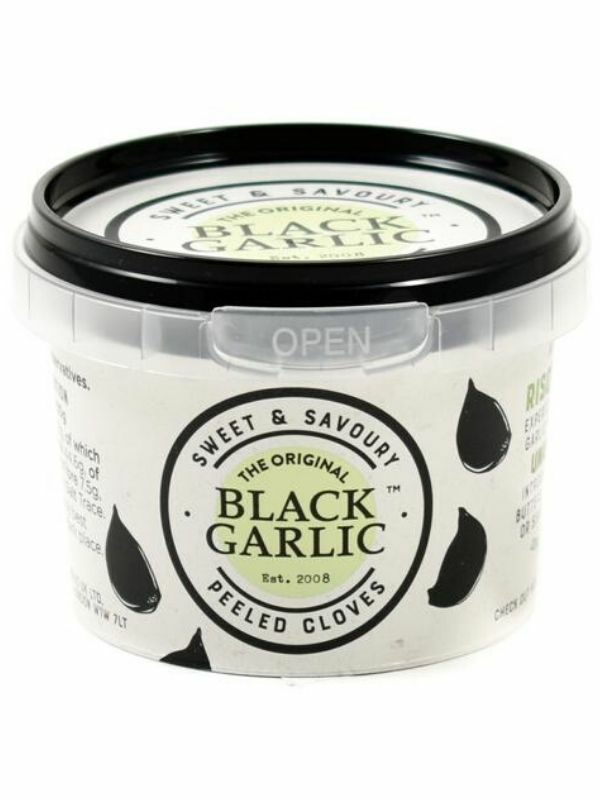 Black Garlic - Peeled 50g Tub (Balsajo)
Pure, Ready-to-use Black Garlic Bulbs
Aged white garlic with two times the normal antioxidant value, a wonderful sweet flavour and almost no overpowering garlic smell.
Aged Garlic.
Contains no additives or preservatives - 100% garlic.
Can be eaten as it is or used in cooking.
Fantastic complex sweet, tangy and rich flavour.
Peeled & stored in a plastic pot.
Black garlic is made by first fermenting white garlic cloves under heat for 3 weeks. Then it is left to age for another week before being packaged. This fermentation process changes the flavour and consistency of the garlic as well as giving it twice the antioxidant properties of normal un-aged garlic.
Flavour and Texture
Black garlic has such an interesting flavour. The strong garlic smell that we are so familiar with disappears due to the fermentation process.
Black garlic is sweet and fudgy, with flavours that resemble balsamic vinegar, sun-dried tomatoes, soy sauce and molasses that stimulates the taste buds. These black garlic cloves are so tasty they could be nibbled as they are without that fear of smelling like garlic.
5 Ways to Use Black Garlic
Use black garlic in salad dressings. Mix whole or chopped black garlic cloves, balsamic vinegar, lemon juice, olive oil and herbs together. Leave to stand for an hour before drizzling over salads. Black garlic has a more mellow flavour than normal garlic and won't overpower the other ingredients.
Use black garlic in a meat marinade. Typically, one would use red wine, spices, vinegar or lemon juice and finely chopped black garlic cloves for a red meat marinade. Make slits in the meat before placing in the marinade and leaving for at least an hour (and ideally overnight).
For people who don't normally eat garlic, black garlic offers a subtle alternative. It is sweeter and gentler on the palate than standard garlic. Use black garlic, for example, in curries or other exotic dishes. The garlic flavour is still there, but without the harsh "edge" that garlic normally has.
Use black garlic cloves in a risotto, pasta or noodle dish. Fry onions, mushrooms and whole black garlic cloves before stirring into the dish.
You can, of course, simply eat black garlic on its own. It won't leave the aftertaste of regular garlic, and is a tasty, healthy snack.
Aged garlic (no preservatives).
| Typical Values | Per 100g | Per 15g Serving |
| --- | --- | --- |
| Energy | 264 calories | 40 calories |
| Protein | 13.3g | 2.g |
| Carbohydrates | 53.3g | 8g |
| _of which sugars | 26.6g | 4g |
| Fats | Trace | Trace |
| Fibre | 20g | 3g |
| Sodium | Trace | Trace |
| Salt | Trace | Trace |
Customer Reviews on Trustpilot