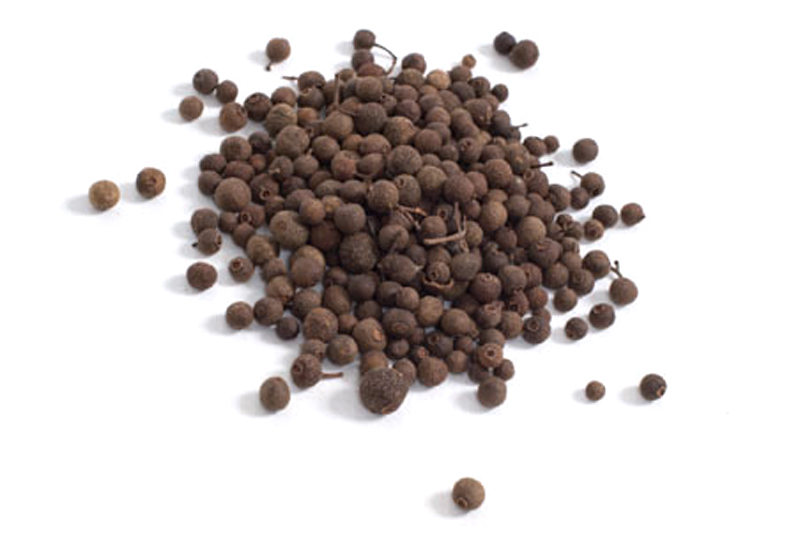 Whole Allspice 50g (Hampshire Foods)
Whole Jamaican Allspice
Large dried Pimenta (or Pimento) fruits.
A fresh peppery flavour, with an overlay of nutmeg, cinnamon and clove flavours.
Suitable for grinding into savoury dishes.
Use whole in pickling and in drinks.
A whole allspice will retain its intense flavour longer when stored in this way. It can be ground down with a pestle and mortar and added to all sorts of sauces, meat rubs and seasonings.
Directions
In Jamaican Jerk recipes:
All spice is often accompanied by other spices such as chilli, garlic, onions, coriander, vinegar and citrus juices to make spicy, tangy jerk paste. Simply crush the ingredients together in a mortar and pestle, and apply to the meat.
In meat marinades: Crush before use and mix with other spices such as chilli, coriander and cassia. Add garlic and vinegar and leave the meat to stand in the mix for as long as possible.
Mulled wine: There are many variations to mulled wine. All spice is a favourite candidate.
Pickling: Combine whole allspice with mustard seeds, vinegar and other seasonings to pickle vegetables.
"Cracked Jamaican Pepper": Allspice is sometimes referred to as Jamaican pepper. The dried fruits are hard and look like large pepper corns. If you have a large pepper mill, you can add some whole allspice to your regular peppercorns, for a more spicy flavour.

Allspice (dried pimenta).
Customer Reviews on Trustpilot