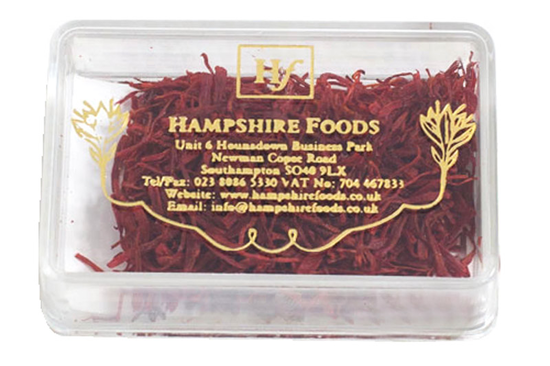 Hampshire Foods Pure Spanish Saffron.
Pure Spanish Mancha Saffron 1g (Hampshire Foods)
Saffron was grown here in the UK centuries ago. In modern times, however, the supply of this highly concentrated flavouring now comes from southern Spain. Hand picked from the autumn crocus, it is estimated that it takes around one million crocus stigmas to product a kilo of Saffron.
Just a small amount of these fragile threads are used to add a dramatic colour to rice, potatoes and sauces. Saffron also has a distinct flavour of its own and works well with other herbs and spices.
These saffron threads are way better than alternatives such as saffron powder. The threads keep their flavour for far longer. Saffron is also superior to turmeric for adding colour and flavour to rice.
Directions
Saffron must be added to hot liquid and allowed to soak for at least 15 minutes, so that the flavours can be released. Add the liquid to rice dishes, meats, soups, stews and paella. It's only necessary to use a pinch.
Ingredients:
Pure Spanish Saffon.
For more information on our ingredients policy please see here
Vegetarian, Vegan.
Customer Reviews on Trustpilot
Product Recommendations