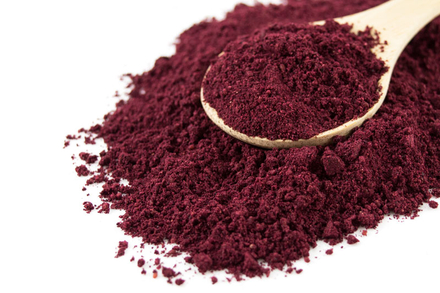 Last Batch Produced on Tue 15 Sep 2020 15:41. Best before End Jul 2021. Produce of Poland. Packed in the UK.
Freeze-Dried Blackcurrant Powder 1kg (Bulk)
Pure Blackcurrant Powder
Suitable for sprinkling into food dry or to have rehydrated.
Made from 100% blackcurrants.
Freeze dried blackcurrant powder is is a natural and clever way to introduce extra fruit into the diet, as well as being a natural, safe colouring and flavouring. The powder contains no artificial ingredients, flavourings or colourings, just blackcurrant.
Blackcurrant powder can be used to make smoothies, milkshakes, lollies, jelly, flavouring yoghurt or custard, meringue, sauces and desserts. It is also an ideal consistency for dusting onto puddings.
To rehydrate, use 1 part blackcurrant powder to 7 parts liquid.
Ingredients:
Blackcurrants. (100% pure blackcurrant).
Please note, all Healthy Supplies products will soon become part of our Sussex Wholefoods range. There is a transition period when you might receive either Healthy Supplies or Sussex Wholefoods product. This is just the change of the label, ingredients remain unchanged.
For more information on our ingredients policy please see here
Related Categories

---

Dried Blackcurrants | Healthy Supplies
Freeze-Dried Fruits in Bulk Quantities
Dried Fruit | Healthy Supplies
Customer Reviews on Trustpilot
---