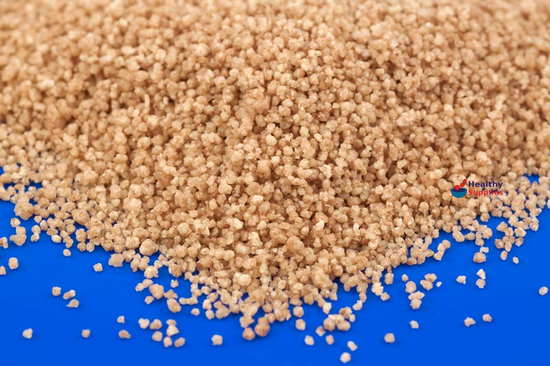 Wholemeal Spelt cous cous steams in around 7 minutes.
Cous Cous 450g - Wholegrain Spelt, Organic (Infinity Foods)
100% Wholegrain Cous Cous
Made from wholemeal spelt flour.
Nutritious alternative to pasta.
Use in savoury and sweet dishes.
Quick and simple to prepare.
Spelt is an ancient form of wheat and is usually higher in protein than wheat. Some people who find they cannot eat wheat based foods are fine with spelt. Wholegrain cous cous is filling, nutritious and easy to prepare.
Cous Cous is most commonly used in Middle Eastern cuisine, but can work equally well as an accompaniment to warm meals such as Chilli con Carne or Bolognese as well as making the ideal base for a summer salad.
How to prepare
Pour the cous cous into a heat proof dish.
Add double the amount of boiling water over the cous cous and cover.
Leave to stand for 5-10 minutes
Then fluff up with a fork. At this stage you can season and/or add vegetables.
The cous cous is now ready to serve.
Ingredients:
100% Wholemeal Organic Spelt.
Organically produced in France
For more information on our ingredients policy please see here
Nutritional Information
| Typical Values | Per 100g |
| --- | --- |
| Energy | 343kcal |
| Protein | 12.6g |
| Carbohydrates | 64g |
| _of which sugars | 1.7g |
| Fat | 2.2g |
| _of which saturates | 0.5g |
| Fibre | 8.8g |
| Sodium | 0.01g |
Organic • Vegetarian, Vegan.
Customer Reviews on Trustpilot