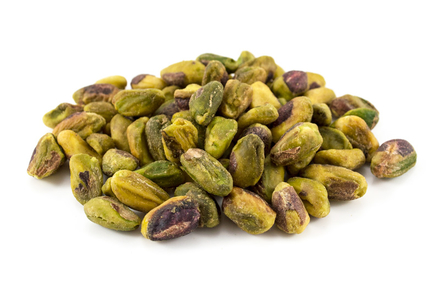 Special Offer: Was: £32.50
Last Batch 81394 Produced on Wed 4 Dec 2019 12:42. Best before End May 2020. Produce of USA. Packed in the UK.
Unsalted Pistachios(1kg) - Sussex Wholefoods
Special Offer: Was: £32.50
Large Pistachios, Unroasted. No Added Salt 1kg
Raw, not roasted.
100% Shelled Pistachio Nuts.
No added salt, preservatives or flavourings.
Rich, sweet flavour with a creamy texture.
Ready to eat or cook with.
Packed in Sussex.
1kg pack.
These raw pistachio kernels are perfect for grinding down into a 'meal', powder or flour to add to ice-cream or macaroon mix. They are also incredibly tasty as a snack or mixed into your breakfast bowl. They have a good level of protein to keep you full for longer. Although pistachios are high in fat, only around 7g per 100g are saturated fats.
Pistachios kernels also work well as a savoury ingredient. For example you can roughly crush them and sprinkle them over salad and stir into pasta. Pistachios lend themselves well to making into fresh pesto instead of pine nuts and can be used in place of pine nuts on top of a Goats Cheese Pizza. Also useful for making a vegetarian stuffing.
Ingredients:
Raw Pistachio Nuts.
Produce of: USA
Nutritional Information
| Typical Values | Per 100g |
| --- | --- |
| Energy | 601kcal |
| Protein | 17.9g |
| Carbohydrate | 8.2g |
| _of which sugars | 5.7g |
| Fat | 55.4gg |
| _of which saturates | 7.4g |
| Fibre | 6.1g |
| Sodium | Trace |
Wheat-free • Does not naturally contain gluten • Vegetarian, Vegan • Dairy-free.
Special Offer: Was: £32.50
Related Categories

---

Pistachio Nuts | Healthy Supplies
Sussex Wholefoods Nuts
Nuts | Healthy Supplies
Customer Reviews on Trustpilot
Product Recommendations
---