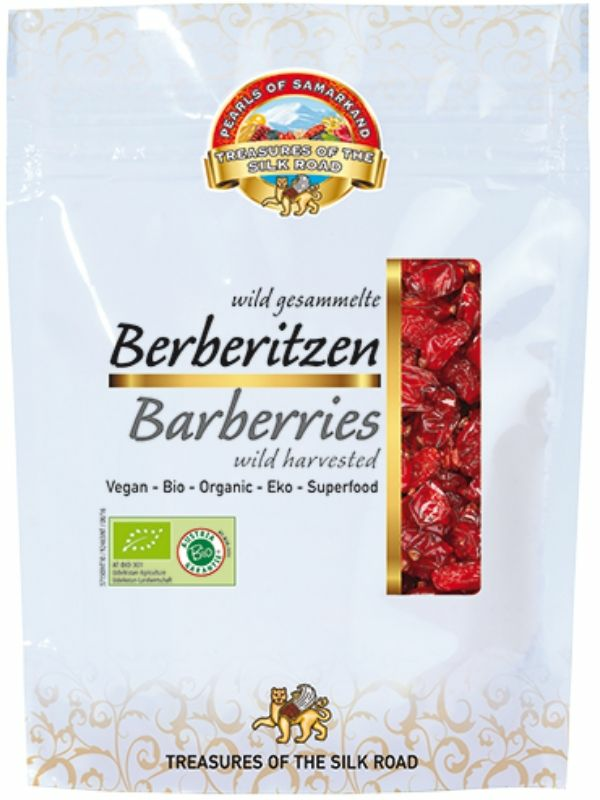 Barberries, Organic 100g (Pearls of Samarkand)
Email me when this product is back in stock
Organic, Dried Barberries (or Berberis)
Barberries are also known as Berberis.
Rich in Vitamin C.
Sweet with a sharp flavour.
100% barberries - no additives or oil.
Handy resealable pouch.
Barberries are beautiful little red berries that are full of flavour. They are common in Middle Eastern and Asian cuisine, adding flavour and colour to rice and cous cous dishes. Barberries are also great eaten with yoghurt.
Directions
A snack berry: Barberries can be used in fruit/nut/seed mixes. They have a sweet, tangy flavour.
In muesli or yoghurt: A sprinkling of barberries will lend a citrus-like flavour to muesli or yoghurt.
In curries and tagines: Barberries are popular in Persian dishes such as tagines. They add a sharp sweetness and complements other fruits such as dates and raisins in such meals. Typically, one would quickly fry off the onions, meats and spices before adding to a tagine with the barberries, other fruits and water. Slow-cook for 1 and a half hours.
In rice: Barberries are great when cooked with rice. Simply sprinkle a handful of barberries into the pot when cooking the rice.
100% Barberries - certified organic. Produce of Uzbekistan.
| Typical Values | Per 100g | Per Portion (25g) |
| --- | --- | --- |
| Energy | 316 calories | 79.1 calories |
| Protein | 3.6g | 0.9g |
| Carbohydrates | 63.9g | 16g |
| _of which sugar | 27.2g | 6.8g |
| Fat | 3.5g | 0.9g |
| _of which saturates | 0.5g | 0.1g |
| Fibre | 7.4g | 1.9g |
| Sodium | 0.017g | 0.004g |
| Vitamin C | 24mg | 6mg |
Organic • Vegetarian, Vegan.
Customer Reviews on Trustpilot