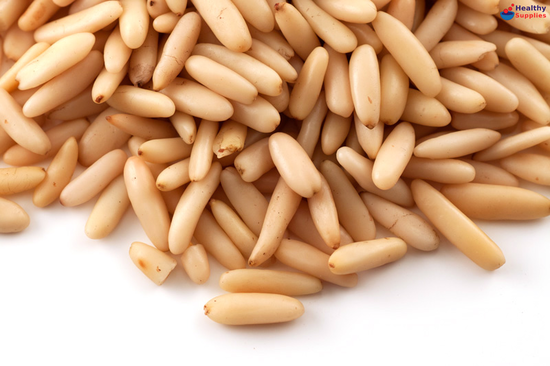 These Himalayan pine nuts are simliar to the
European pine nuts.
This product now comes in
100% recyclable packaging.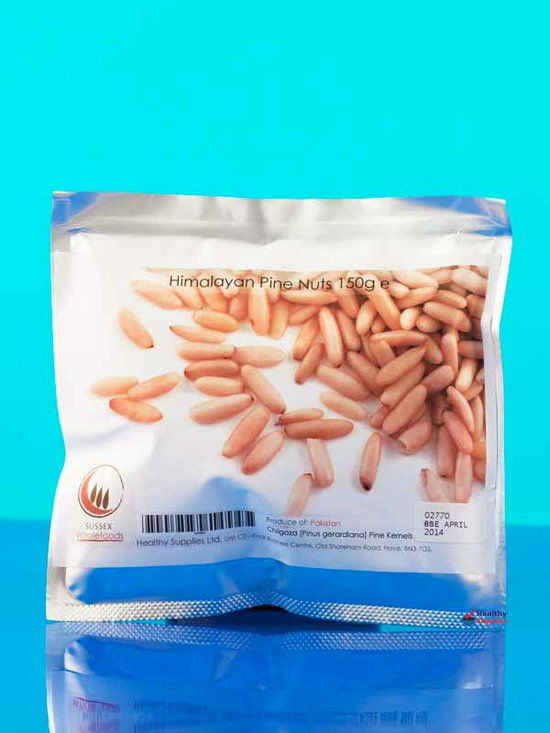 Himalayan Pine Nuts 150g (Sussex Wholefoods)
Pine Kernels [Pinus gerardiana]
Rich depth of flavour.
Creamy and soft.
Ideal for Pesto and salads.
Ready-to-eat or can be toasted.
The elongated shape of these Pine Kernels makes them recognisable from the shorter, more stubby Korean and Siberian Pine Nuts. They look very similar to their European cousins
pinus pinea
. These Himalayan pine nuts have a smooth, almost toasted flavour. They have a rich, well rounded flavour, which lasts satisfyingly on the palate.
The kernels are handpicked from the mountain region of Pakistan and are graded for premium quality before packaging.
About Chilgoza Pine Nuts
These pine nuts are from the Chilgoza pine, which is native to the Himalayas. They are similar to the European pine nuts and have a similar flavour, which is subtly different from the Chinese ones. They have a creamier consistency than the Chinese ones. These pine nuts offer excellent value and work well in European recipes such as pesto.
Ingredients:
Unroasted Chilgoza Pine Nuts
[Pinus gerardiana]. Produce of Pakistan. For more information on our ingredients policy please see here
Store in a cool, dry place.
Vegetarian, Vegan. Packed in a factory that also handles other nuts, soya, sesame, eggs, milk, mustard, celery, wheat and gluten.
Customer Reviews on Trustpilot
Product Recommendations