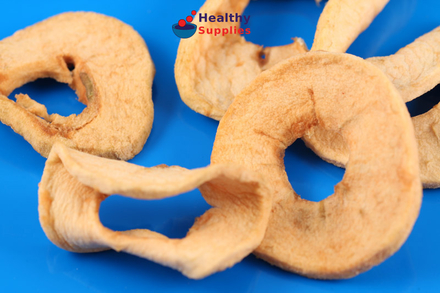 These chewy apples have a natural apple tangy taste.
Preservative-free and naturally slightly dark.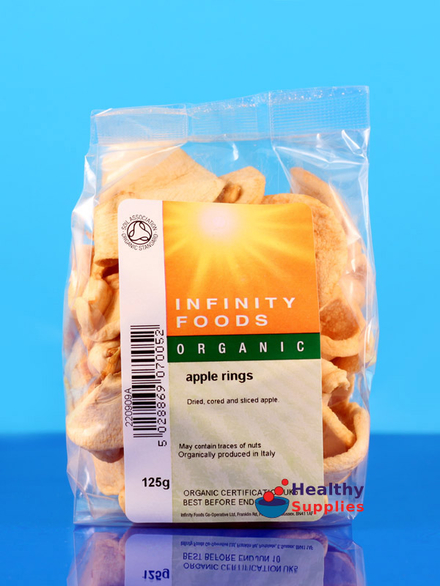 This product is temporarily out of stock.
Chewy Apple Rings, Organic 125g (Infinity Foods)
This product is temporarily out of stock.
100% Soft Pure Dried Apple
Soft and springy whole rings of real apple.
Not sickly sweet or over-acidic - very tasty!
Just 100% apple - no preservatives & no sugar.
Easy for children try.
Also available in 250g.
Tasty Rings of Apple
These apple rings are a must try! They are
soft, springy, bendy
and
chewy
. You can tear the rings into little pieces and add them to your
breakfast
, deserts or in
cake and biscuit
recipes.
Because they are soft and easy to rip and chew, many children would enjoy chewing or sucking on the apple pieces - think of them like "organic teething rings".
No Point in Preservatives
These apples are 100% pure and contain no preservatives.
Preservatives are often added to dried apples to stop them going dark. Preservatives also change the natural flavour of apple rings, making them taste more sugary and false. The preservative that is usually added is E220. These apple rings however, as you can see (see picture), are doing just fine without the need of any additives, including E220. They have a very different taste from the standard apple rings that are commonly available in the supermarkets.
The Taste Test
The flavour is completely natural and not concentrated. They have no added sugar or fruit juice so are not over-sweet. The taste is nice and tangy, mildly sweet and in our view the best that we have tried so far. The soft, texture makes them incredibly moreish. They are actually very reminiscent of chewy sweets (but of course completely healthy).
Overall we have evaluated a few types of dried apples and these are the best that we have found so far.
Ingredients:
Organic Apples.
Organic.
This product is temporarily out of stock.
Customer Reviews on Trustpilot
Product Recommendations
---