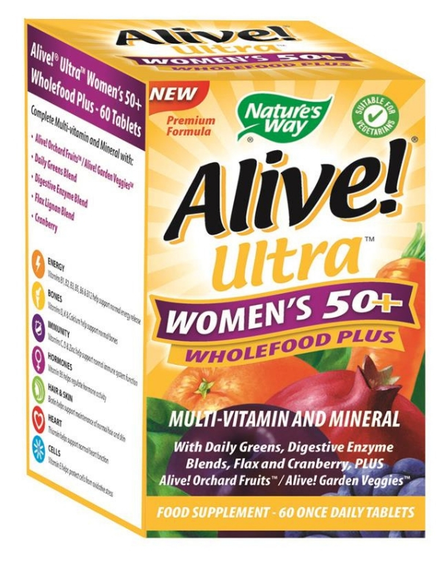 Alive! Women's 50+ Ultra Wholefoods Plus, 60 Tablets (Nature's Way)
Introductory price! RRP: £24.99
A premium multivitamin and mineral formula for women 50+
Made using 25 essential vitamins and minerals & unique botanical blends.
Free from gluten, soya, dairy, yeast, artificial flavours and colours.
Suitable for vegetarians.

Contains:

Vitamins B1, B2, B3, B5, B6 and B12 - can support normal energy levels.
Vitamin C, D and Zinc - can help support normal immune system function.
Vitamins D, K and Calcium - can help support normal bones.
Vitamin B6 - may help regulate hormone activity.
Biotin - may help maintain normal hair and skin.
Thiamin - may help support normal heart function.
Vitamin E - can help protect cells from oxidative stress.
You might also like to try...
Ingredients:
Lithothamnion calcarea, Vitamin C (as ascorbic acid), Magnesium (as magnesium oxide), Vitamin E (as d-alpha tocopherol acid succinate), Microcrystalline cellulose, Saw Palmetto (extract), Stearic acid, Orchard Fruits™/Garden Veggies™ Blend whole fruit and veg powders (Blueberry, Orange, Carrot, Pomegranate, Plum, Strawberry, Apple, Beetroot, Cherry, Pear, Tomato, Cauliflower, Raspberry, Acai, Asparagus, Banana, Broccoli, Brussels sprout, Cabbage, Cranberry, Cucumber, Grape, Pea, Pineapple, Pumpkin, Spinach), Choline (as choline bitartrate), Vitamin B6 (as pyridoxine HCl), Cross-linked modified cellulose gum, Niacin (as niacinamide), Pantothenic acid (as calcium d-pantothenate), ,Vitamin B1 (as thiamin mononitrate), Riboflavin, Vitamin B12 (as cyanocobalamin), Lutein, Inositol, Citrus bioflavonoids, Men's Blend (Hawthorn (berry), Resveratrol (Polygonum cuspitadatum), Co-enzyme Q10), Daily Green™ Blend powders (Spirulina, Kelp (fish, crustaceans, molluscs), Alfalfa (leaf, stem, flower), Barley Grass, Blessed Thistle (stem, leaf, flower), Blue-Green Algae (whole plant), Chlorella, Coriander (leaf), Dandelion (leaf), Lemon Balm (leaf), Lemon Grass, Plantain (leaf), Nettle (leaf), Wheat Grass), Digestive Enzyme™ Blend (Betaine HCl, Bromelain, Papain, Alpha galactosidase, Cellulose, Amylase, Protease, Invertase, Lactase, Lipase, Peptidase), Vitamin D3 (as cholecalciferol), Anti-caking agents: Magnesium stearate, Silicon dioxide, Bulking agent: Hydroxypropyl methylcellulose, Manganese (as manganese sulphate), Zinc (as zinc oxide), Vitamin K1 (as phylloquinone), Selenium (as sodium selenate), Potassium (as potassium chloride), Molybdenum (as sodium molybdate), Rutin flower bud extract, Vitamin A (as vitamin A retinyl acetate), Iodine (as potassium iodide), Glycerin, Beta-carotene, Copper (as copper sulphate), D-Biotin, Folic acid.
For more information on our ingredients policy please see here Dosage: Adults age 16yrs+: take one tablet daily, preferably in the morning with food.
Do not exceed recommended intake. Food supplements should not be used as a substitute for a varied, balanced diet and healthy lifestyle. Long term intake of 40 mg of vitamin B6 may lead to mild tingling and numbness. Keep out of sight and reach of young children. Safety sealed with inner freshness seal. Do not use if seal is either broken or missing. Store in a cool, dry place.
Introductory price! RRP: £24.99
Customer Reviews on Trustpilot