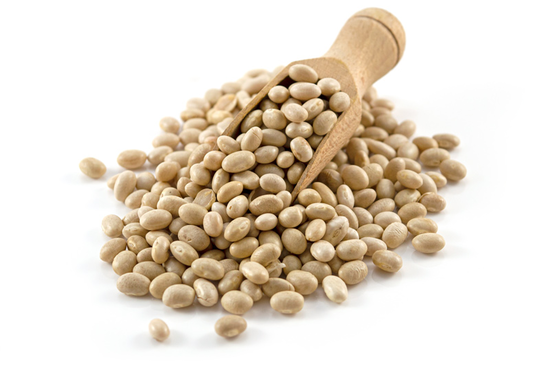 Organic Haricot Beans 25kg (Bulk)
This product is temporarily out of stock.
Organically Grown Haricot Beans
Organic produce.
Little, off-white, oval-shaped beans.
Creamy and fluffy once cooked.
Use to make pates, soups, chilli con carne, salads and other savoury meals.
Full of fibre and protein.
Cooking time: About an hour.
The haricot bean is the famous bean used in Baked Beans (canned beans in tomato sauce). They are used in many types of cuisine, including South American, Mediterranean, and Asian. Haricot beans are also widely consumed in the UK and the USA.
Cooking Haricot Beans
Although they are small, haricots are quite hard and need a soak for a few hours first (either soak them or boil them for a longer time).
Add the beans straight to boiling water and leave them for about 20 minutes. Next, turn down the heat, place the pan lid on and leave the haricots simmering for an 45 minutes - 1 hour.
Nutritional Information
| Typical Values | Per 100g |
| --- | --- |
| Energy | 337kcalories |
| Protein | 22.33g |
| Carbohydrates | 60.75g |
| _of which sugars | 3.88g |
| Fat | 1.5g |
| _of which saturates | Trace |
| Fibre | 15.3g |
| Sodium | 0.0125g |
Organic.
This product is temporarily out of stock.
Customer Reviews on Trustpilot