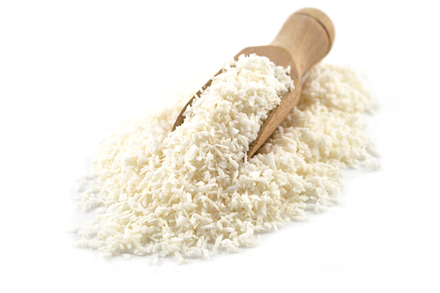 A versatile sweet ingredient. No need to add sugar!
Last Batch 87925 Produced on Thu 28 Jan 2021 16:06. Best before End Oct 2021. Produce of Indonesia. Packed in the UK.
Desiccated Coconut 25kg (Bulk)
Medium Shredded Coconut
100% Pure Coconut.
No added sugar, no preservatives.
Naturally sweet and juicy.
Light texture, easy to mix.
Ready-to-eat.
This desiccated coconut has a light texture which is perfect for cooking and baking. It has a rich nuttiness and tastes juicy as you chew!
No need to cook before adding to porridge or muesli. Try adding to home made granola or flapjacks to add natural sweetness.
This finely shredded coconut can easily be added to curries which is really useful when you have no coconut milk in the house, but still want the sweetness and flavour of coconut. Just add a little more liquid to compensate.
Fine desiccated coconut makes a pretty and tasty garnish for cakes and biscuits. The ideal food ingredient to mimic snow to decorate festive cakes and bakes!
Ingredients:
Dried Coconut, unsweetened.
Produce of Indonesia.
Please note, all Healthy Supplies products will soon become part of our Sussex Wholefoods range. There is a transition period when you might receive either Healthy Supplies or Sussex Wholefoods product. This is just the change of the label, ingredients remain unchanged.
For more information on our ingredients policy please see here
Customer Reviews on Trustpilot
---