Smooth Almond Butter with a richly satisfying flavour.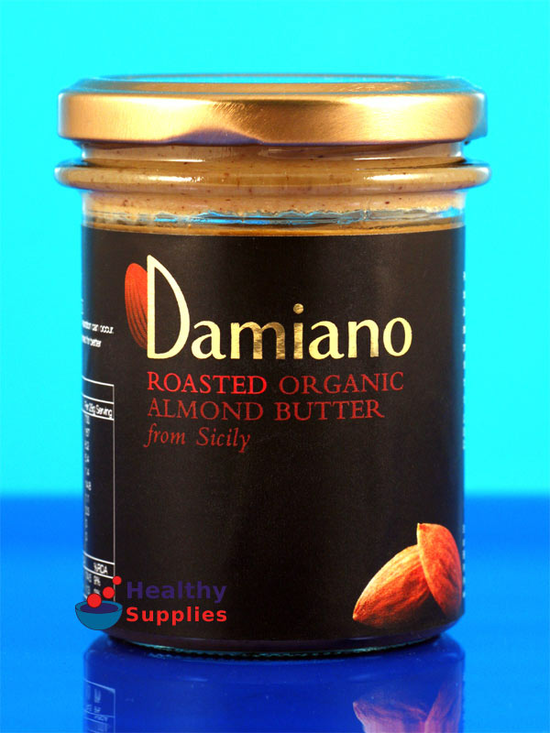 Roasted Almond Butter 180g, Organic (Damiano)
Pure Almond Butter from Sicily
100% Pure Organic Almonds.
No salt, no sugar, no lecithin - just almonds!
Smooth texture, easy to spread.
This nut butter is made entirely from roasted Sicilian organic almonds. It has a rich, naturally sweet toasted flavour which can be enjoyed as a snack and can be used in baking. It has a smooth texture with a dropping consistency. Try as a nutritious breakfast spread, as a cake filling or a garnish for ice-cream and desserts.
Damiano are a family run company who pride themselves in the careful growing, selection and processing of their nuts and the excellent taste of their products.
Directions
As an alternative to peanut butter: This almond butter is supremely tasty, and can be eaten on toast. It is made from pure almonds and is thus much more healthy than the brand-leading peanut butter.
In confectionery: Use this almond butter as a filling in home-made chocolates (see recipe suggestion below).
In desserts: This almond butter can be used to flavour home-made ice-creams. Simply blend a few spoonfuls into the mix.
In smoothies and protein shakes: Almond butter works very well in smoothies, adding taste and nutrition (particularly protein).
Ingredients:
Organic Roasted Almonds.
For more information on our ingredients policy please see here
Produce of Sicily.
Nutritional Information
| Typical Values | Per 100g | Per 28g Serving |
| --- | --- | --- |
| Energy | 597kcal | 167kcal |
| Protein | 22.1g | 6.2g |
| Carbohydrates | 19.3g | 5.4g |
| _of which sugars | 4.9g | 1.4g |
| Fat | 52.8g | 14.8g |
| _of which saturates | 4.0g | 1.1g |
| Fibre | 11.8g | 3.3g |
| Sodium | 0g | 0g |
| Salt equivalent | 0g | 0g |
| Calcium | 266mg | 74.5g |
| Iron | 4.5mg | 1.3mg |
Organic • Vegetarian, Vegan.
Customer Reviews on Trustpilot
Product Recommendations