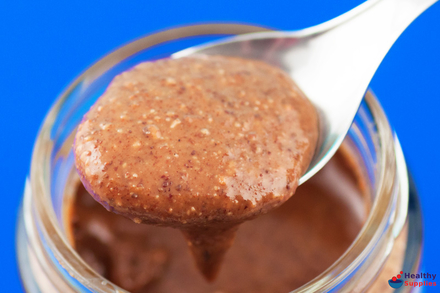 Organic Almond Butter from Meridian.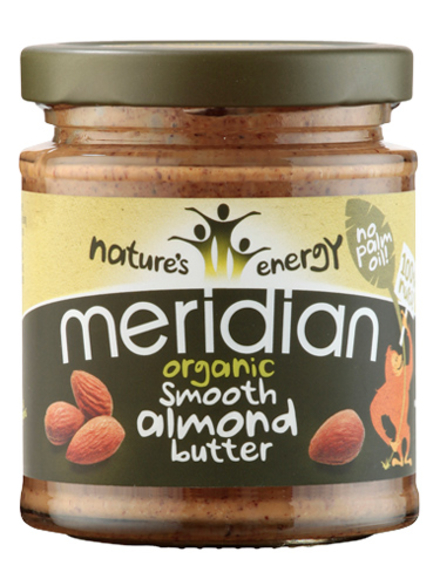 Almond Butter, Organic 170g (Meridian)
Organic Roasted Almond Butter
Spread on toast or crackers (just like peanut butter).
A more delicate flavour than peanut butter.
No added sugar or oil.
Use in sauces or in baking.
Organic.
This almond butter is made with whole organic almonds which are then roasted before being ground to a smooth texture. There are no added ingredients except for a small pinch of salt. This nut spread is very nutritious. It is rich in Vitamin E and Magnesium as well as being high in protein.
Directions
As a spread: This almond butter can be used instead of peanut butter. It spreads easily and has a similar taste, with a lighter consistency and more delicate flavour. Spread onto toast or crackers. It complements most other ingredients, both sweet and savoury.
In place of peanut butter: Almond butter translates well to recipes that require peanut butter. This includes Far-Eastern recipes such as satay, stir-fries and noodle soup recipes.
In confectionery and baking: Almond butter can be used as a filling in chocolates and cakes. It works well where peanut butter would be too strong.
Ingredients:
Roasted Whole Almonds (with skins (99.5%)), Salt (0.5%).
Free from wheat, gluten and dairy.
Nutritional Information
| Typical Values | Per 100g |
| --- | --- |
| Energy | 627 calories |
| Protein | 25.3g |
| Carbohydrate | 6.5g |
| _of which sugars | 4g |
| Fat | 55.5g |
| _of which saturates | 4.4g |
| Fibre | 11.7g |
| Sodium | 0.2g |
Organic • Wheat-free • Does not naturally contain gluten • Vegetarian, Vegan • Dairy-free.
Related Categories

---

Nut Butters
Almonds
Almond Butter
Nut Butters
Meridian
Customer Reviews on Trustpilot
Product Recommendations
---