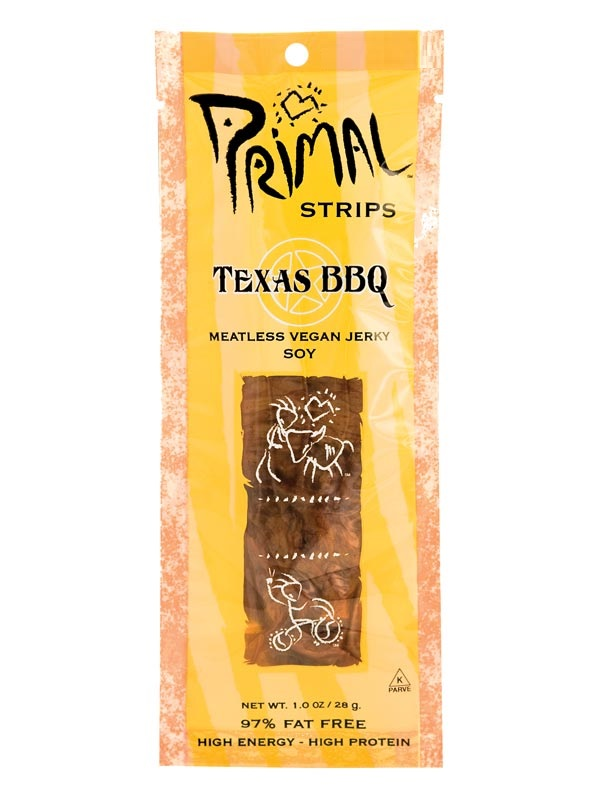 Vegan Texas BBQ Jerky Strips 28g (Primal Spirit)
All-Natural Texas BBQ Meatless Jerky Primal Strips
Vegan.
Low in fat.
High in protein.
Great energy booster.
Free from preservatives.
Made from a healthy mixture of Seitan, Shiitake mushrooms and Soybeans.
Primal Spirit Jerky Strips are a great vegan-friendly alternative to meat jerky! Made from a delicious combination of Soy, Seitan and Shiitake Mushrooms these tasty strips come in a variety of flavours and provide an great protein hit.
Perfect for snacking, these handy packs are lightweight and are well suited to hikers, outdoors people and people on the go. Jerky strips also make great additions to salads, stir fries, burritos and even sandwiches!
The Texas BBQ Jerky Strips are moister than meat jerky and have a sweet BBQ flavour. We found that they are more tender than their meat counterparts, meaning a more enjoyable eating experience! The flavours A healthier snack for both meat-lovers and those on a meat-free diet!
Non-GMO Isolated Soy Protein, Water, Unrefined Evaporated Cane Juice, Naturally Brewed Soy Sauce (Water, Non-GMO Soybeans, Wheat, Sea Salt), Vinegar, Sea Salt, Natural Smoke Flavouring, Natural Vegetarian Spices. No Msg Added.
Typical Values
Per 28g/bar
Energy
81kcal
Protein
10g
Carbohydrates
11g
_of which sugars
5g
Fat
1g
_of which saturates
1g
Salt
383mg
Customer Reviews on Trustpilot