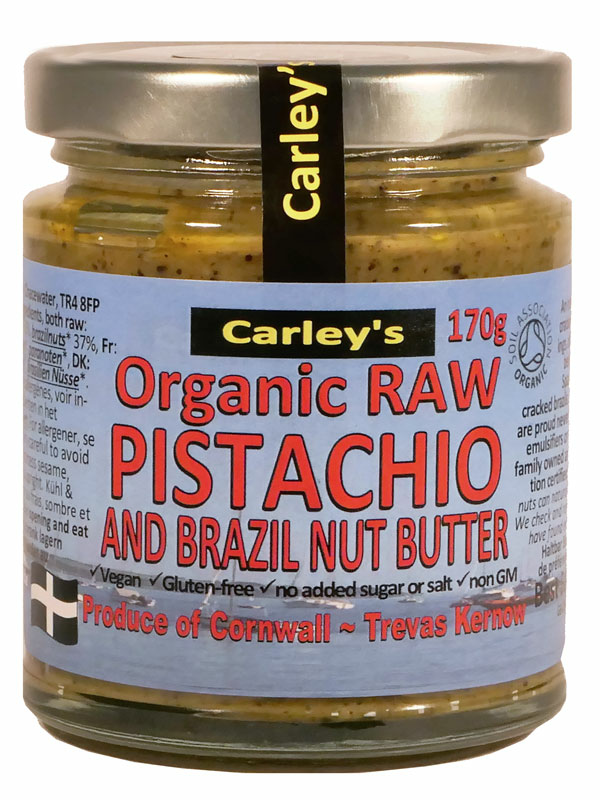 Raw Pistachio and Brazil Nut Butter, Organic 170g (Carley's)
Pistachio and Brazil Nut Spread
Made from ground, unroasted pistachio nuts.
Contains Brazil nuts for added depth and flavour.
No added salt, sugar or preservatives.
Cool milled to preserve flavour and goodness.
Add to savoury sauces and dressings.
Stir through pasta, spread on toast or crackers.
The distinctively creamy, rich flavour of the pistachio kernel comes into its own when milled into this paste or 'butter'. This pistachio nut butter is naturally dark green and has a slight savoury twist with a sweet, nutty ending. Fans of pistachio ice-cream will enjoy stirring this into vanilla ice-cream or frozen yoghurt for a summery treat.
3 ways to use this Pistachio Nut Butter
Blend with basil leaves, a garlic clove, a little lemon juice and black pepper for a new style dairy-free pesto to add to your pasta bowl.
Spread onto toast, pancakes or crackers and drizzle with honey or maple syrup for a scrumptious breakfast.
Mix a few tablespoon with lemon juice, white wine vinegar, a light, flavourless oil such as grapeseed oil and a few chives. Add a little sweetener to taste, then drizzle over a green salad e.g. baby spinach, rocket and avocado slices.
Organic Raw Pistachios (70%), Brazil Nuts (30%)
Produced in the UK.
Refrigerate after opening and eat within two months. Some separation is natural. Just stir before use.
Organic • Vegetarian, Vegan.
Customer Reviews on Trustpilot