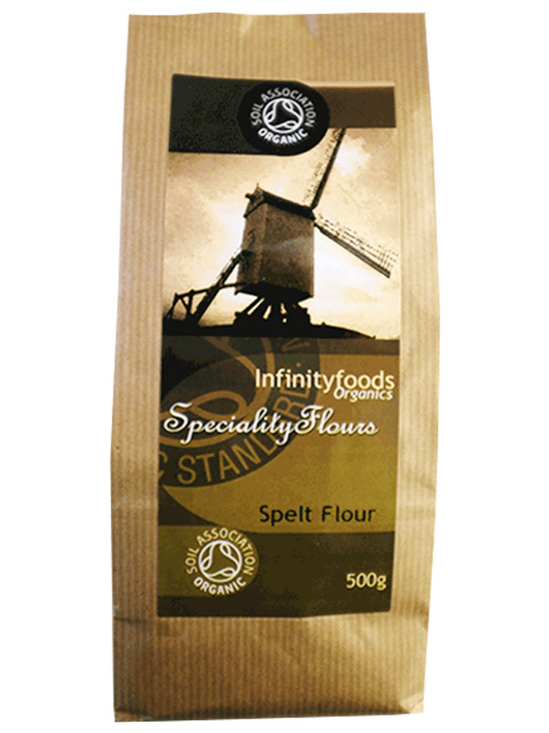 Spelt is a light wholegrain flour.
Use spelt flour to make bread and
crepes (pancakes).
Spelt Flour, Organic 500g (Infinity Foods)
Organic Wholegrain Spelt Flour 500g
Organic produce.
A light flour that rises more easily than regular flour.
For making bread, pancakes and in many other recipes.
Related to wheat, but more nutritious and easier to digest.
A traditional flour that's easy to work with.
Use spelt flour in the same way that you would use wheat flour.
500g pack.
Spelt is from the wheat family and used to be the most popular form of wheat until the 20th Century. It is now becoming more popular, because many of us are realising and acknowledging the nutritional benefit found in spelt.
Spelt is easier to digest than wheat. Some people prefer to eat spelt instead of regular wheat to avoid bloating and constipation. Spelt is not gluten free, but some people with gluten allergies are able to tolerate spelt wheat. (Though please note that, of course, spelt is still a form of wheat). Spelt flour is higher in protein and lower in carbohydrates than most other forms of wheat.
Spelt flour is easy to use, and can be used just as normal wheat flour. It makes for a light mix with a slightly nutty flavour. Spelt bread and spelt crepes are very popular uses for spelt flour.
Directions
Use spelt flour in the same way that you would use normal wheat flour. You can use it in bread, pizzas and many more recipes. Interestingly, bread made from spelt flour is lighter than normal bread. This is because spelt rises more quickly.
Ingredients:
100% Organic Stoneground Wholegrain Spelt. (Produced in the UK - organic certified)
For more information on our ingredients policy please see here
Nutritional Information
| Typical Values | Per 100g |
| --- | --- |
| Energy | 311 calories |
| Protein | 11.5g |
| Carbohydrates | 60.9g |
| _of which sugars | 2.1g |
| Fat | 2.5g |
Organic • Vegetarian, Vegan.
Customer Reviews on Trustpilot
Product Recommendations