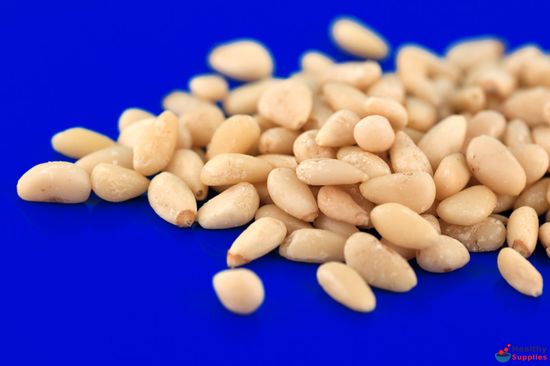 Pine Nuts/Kernels 250g (Infinity Foods)
Large Quarter-Kilo of Pine Nuts.
Pure pine nuts.
No added sugar or salt.
Creamy nutty flavour.
Pine nuts are the soft, edible little inner kernels of the pine cone.
Pine nuts (or pine kernels) are suitable for sweet and savoury preparation. Crushed, they can be sprinkled into food or onto ice cream. Pine kernels are one of the important ingredients in pesto, the garlic and basil pasta dressing.
Note that pine nuts and pine kernels are the same thing!
Directions
Pine nuts can be eaten on their own as a snack, or sprinkled into salads. One common use of pine nuts is to make pesto: take a handful of basil leaves, a handful of pine nuts, some parmesan cheese, a little olive oil and some garlic. Whizz in a blender or chop & bash in a mortar and pestle until you are happy with the texture, and the pesto is ready! Add to pasta or pasta sauces for an authentic Italian taste.
Ingredients:
100% Pine Nuts (Kernels).
No added salt or oil. For more information on our ingredients policy please see here
Vegetarian, Vegan.
Customer Reviews on Trustpilot
Product Recommendations