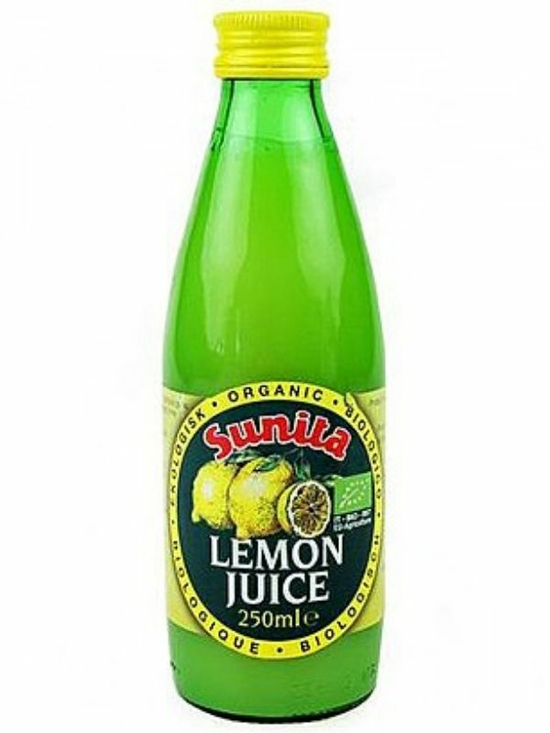 Sunita Organic Lemon Juice.
Organic Lemon Juice 250ml (Sunita)
100% Pure Lemon Juice
Natural organic lemon juice.
Like Jif Lemon but without any preservatives.
Ideal for baking, pancake toppings, dressings, drinks and puddings.
Glass, screw cap 7 inch high bottle.
Special nozzle for drizzling.
Sunita lemon juice is made from organic lemons and contains no other ingredients at all. The taste is completely natural and not overly sharp.
The pourable nozzle makes it easy to control the flow of juice.
Directions
Lemon juice can be used in lots of ways:
Use in pancakes - together with a dash of sugar.
Use to drizzle over salads, fish or chicken.
Homemade lemonade is easy to make with spring water and xylitol. (Xylitol is a natural, low GI plant sugar).
Make butter milk by adding the lemon juice to milk.
Makes a base to dressings and marinades.
Adds natural flavour to soufflés, puddings, cakes and pastries.
Recipe Suggestion
Tropical Smoothie

This tropical smoothie adds a dash of lemon juice, which helps to preserve the colour of the papaya within the smoothie (as papaya often darkens) as well as offsetting the sweetness of the coconut and fruit.

---
Ingredients:
Organic Italian Lemon Juice.
For more information on our ingredients policy please see here
Storage: Keep refrigerated for 30 days after opening.
Organic • Vegetarian, Vegan.
Customer Reviews on Trustpilot
Product Recommendations