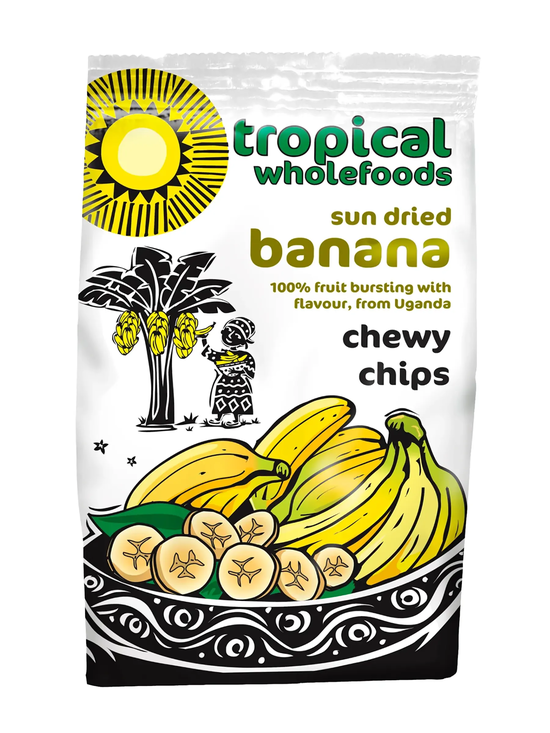 These are much tastier than the standard, hard banana chips.
They are soft and chewy. Organic.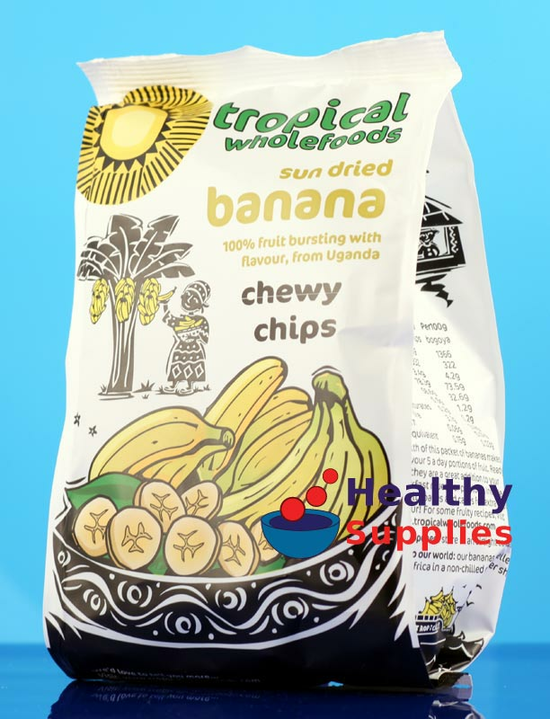 Dried Banana Chewy Chips 150g (Tropical Wholefoods)
These banana chips are really fantastic! Most dried bananas are hard, and contain some added sugar and oil, which help to preserve the bananas. However, these Tropical Wholefoods banana chips are chewy, and do not contain any added ingredients at all. They taste far more banana-ish than the typical dried bananas that are commonly available. They are ideal as either a snack on their own, or for adding to
muesli
or
porridge
. Also try the
bogoya banana strips
, which are similar, but in big strips.
These bananas are grown by farmers' groups in Uganda, picked when fully ripe, and dried in solar driers. Nothing added or taken away.
You might also like to try...
Ingredients:
Organic Bananas 100%. From Uganda, Africa.
For more information on our ingredients policy please see here
No added sugar.
The Taste Test
These bananas are lighter than the similar
bogoya dried banana strips
, and a lot softer too. They have a more subtle taste. Being a little more bite-sized, these are probably more suitable for muesli than the bogoya strips.
We found these to be pleasantly chewy and moreish, and have no hesitation in recommending them for both kids and adults.
Nutritional Information
| Typical Values | per 100g |
| --- | --- |
| Energy (kcal) | 332 |
| Protein | 3.4g |
| Carbohydrate | 78.3g |
| of which natural sugars | 58.6g |
| Fat | 0.5g |
| of which saturates | 0.2g |
| Fibre | 3.1g |
| Sodium | 0.06g |
Vegetarian, Vegan.
Customer Reviews on Trustpilot
Product Recommendations