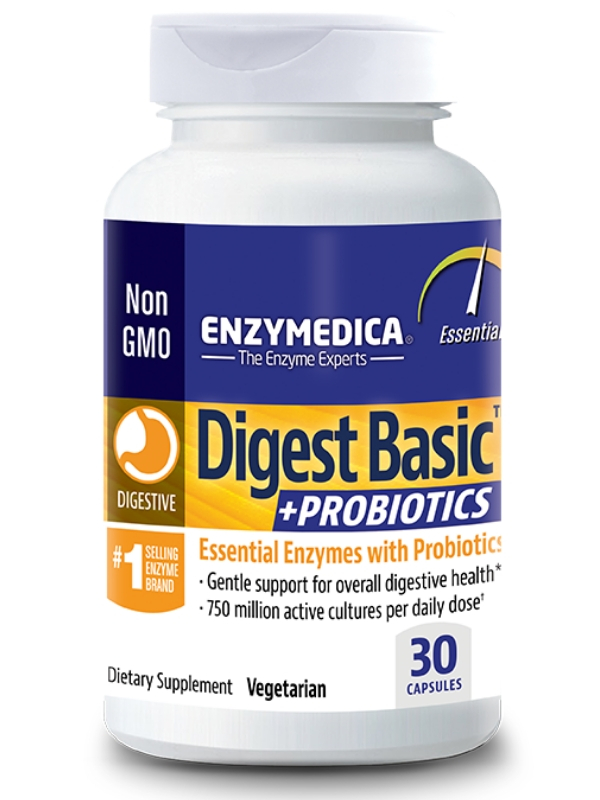 DigestBasic + Probiotics, 30 Capsules (Enzymedica)
Email me when this product is back in stock
DigestBasic Supplements with Probiotics (30 Capsules)
Contains essential enzymes that can aid in supporting healthy digesting.
Contains probiotics for an added boost of gut-friendly goodness.
Dairy-free.
Vegetarian.
Non-GMO.
Gluten-free.
30 Capsules
You might also like to try...
Directions:
1 Capsule with each meal. More may be taken as needed. For higher enzyme potency, Enzymedica's Digest +Probiotics, or Digest Gold +Probiotics may be helpful.
Ingredients:
Protease Thera-blend, amylase Thera-blend, Pectinase (with Phytase), Maltase, Cellulase Thera-blend, Glucoamylase, Alpha Galactosidase, Lactase, Lipase, Invertase, Xylanase, Probiotic blend*: 250 million CFU, 100% Vegetarian Capsule (cellulose, water). Probiotic blend contains: L. acidophilus DDS-1, L. rhamnosus, L. casei, L. gasseri, L. plantarum, L. bulgaricus, L. salivarius, L. paracasei.
For more information on our ingredients policy please see here
Keep out of reach of children.
Customer Reviews on Trustpilot