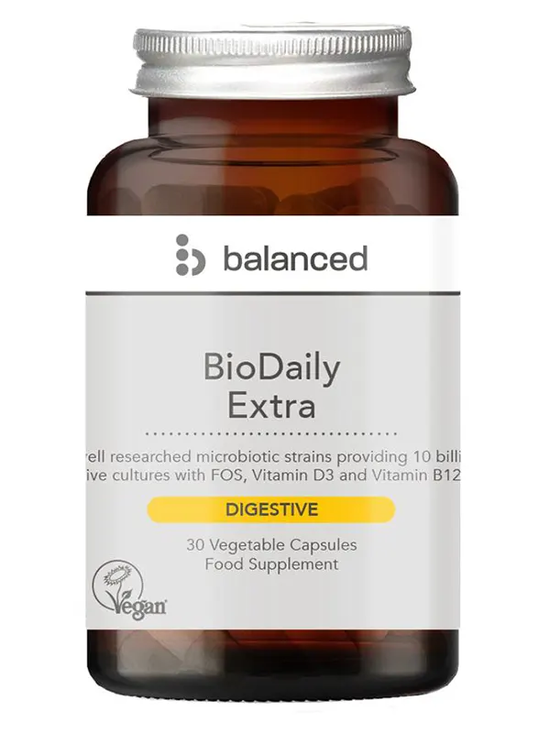 BioDaily Extra 30 Capsules (Balanced)
BioDaily Extra Vegan Capsules
Balanced BioDaily Extra 30 Veggie Caps in our 100% reusable and recyclable bottle. 7 well researched microbiotic strains providing 10 billion live cultures including Lactobacillus bulgaricus, Lactobacillus acidophilus, Lactobacillus rhamnosus, Lactobacillus casei, Bifidobacterium longum, Bifidobacterum bifidum and Bifidobacterum lactis with FOS, Vitamin D3 and Vitamin B12. Vegan and free from excipients, soy, GMO, gluten, lactose, and sugar.
You might also like to browse...
Supplements

Our range of supplements, vitamins and natural remedies!
Directions:
Adults take 1-2 capsules daily with a meal, or as directed by a healthcare professional.
Ingredients:
FFOS (Fructooligosaccharides), Base (Rice Flour (Oryza sativa)), (Capsule Shell (Vegetable Cellulose (HPMC)), Lactobacillus bulgaricus LB025, Lactobacillus acidophilus PBS066, Bifidobacterium longum PBS108, Bifidobacterium bifidum BBF055, Bifidobacterium lactis BL050, Lactobacillius rhamnosus LRH020, Lactobacillus casei LC010, Vitamin D3 Oil (Lichen Extract, Fractionated Coconut Oil, D-alpha Tocopherol), Vitamin B12 (Methylcobalamin).
For more information on our ingredients policy please see here
Guaranteed gluten-free • Vegetarian, Vegan.
Customer Reviews on Trustpilot