Crispy Cakes - Recipe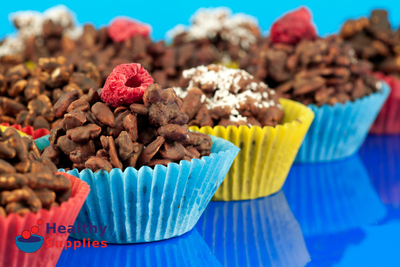 Crispy creations - great for all kids (that includes you big kids).
Enthusiastically made by Caroline Fernandes.
Chocolate Crispy Cakes
Tasty crispy cupcakes made from organic wholegrain cereal puffs, chocolate and additional seeds/fruit - this is a great way of adding fruit, omega-rich seeds, protein-packed nuts and wholegrain fibre to children's diets. Also, they're fun and easy to make!
Directions
1) Simply melt your chosen chocolate in a heat proof bowl using a bain marie.
2) While chocolate is softening, take a large mixing bowl and add your puffs and any other additional seeds, fruit or nuts.
3) Once melted, pour chocolate over your dry mixture. Fold in with a wooden spoon until chocolate evenly covers all the dry ingredients.
4) Spoon mix into cases (or alternatively spread out on a baking tray), and leave to set.
---
Ingredients
---
Dark Choc Ginger Bites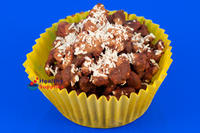 Dark Organic Chocolate topped with Coconut Sprinkles
This crispy cake was made using:
---
Raspberry Omega Crunch
Milk Organic Chocolate with Hazelnuts, Currants and Mixed Seeds with a Raspberry to Decorate
This crispy cake was made using:
---
Orange Carob Crisp
Orange Flavoured Carob Crispy Cake
This crispy cake was made using:
---
Customer Reviews on Trustpilot