Click on images to enlarge: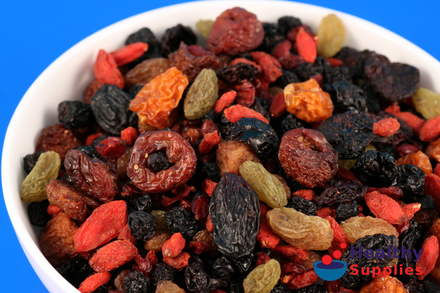 A grand mixture of various raisins, cherries and berries
Very Cherry Berry Raisin (Pearls of Samarkand) 100g
Sundried Organic Mixed Berries
A mix of 12 different fruits!
A succulent, giant selection of various cherries, berries and raisins.
A mixture of flavours and textures; sweet, sour, chewy and juicy.
Completely natural; no preservatives, no sweeteners, no colourings.
A good natural source of vitamin C & vitamin A
Ingredients
Cherries 30% (sour cherries*, sweet cherries*, golden cherries*), Berries 40% (golden berries*, goji berries*, aronia berries*, barberries*, wild forest berries*) Raisins 30% (Khorog raisins*, sultanas, Bukhara raisins*, Manucca raisins*) - 100% fruit & no added sugar.
* Certified organic
Organic • Wheat-free • Does not naturally contain gluten • Vegetarian, Vegan • Dairy-free.
Related Categories

---

Cherries
Mixed Fruit
Raisins, Sultanas & Currants
Goji Berries
Pearls Of Samarkand
Dried Berries
Multi Portion Snacking Fruit, Nut and Seeds
Customer Reviews on Trustpilot
Product Recommendations
---